September 12, 2010 at 07:12 AM EDT
Bartz in a China Shop: Has Yahoo's CEO Wrecked the Valley's Most Valuable Chinese Relationship?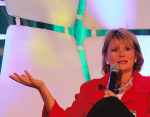 The Chinese aren't exactly prone to emotional outbursts in front of Western reporters. In China, if you insult a business partner in the press, there's likely a calculating reason behind it. Witness the latest volley by Alibaba.com's CEO David Wei towards Yahoo, which owns 40% of the parent company for his Chinese ecommerce powerhouse. "Why do we need a financial investor with no business synergy or technology?" Wei said to Bloomberg on Friday. What's going on behind the scenes? In short, Jack Ma wants Yahoo out of his company, but Yahoo knows it would be crazy to sell before two of the most lucrative divisions of Alibaba, Taobao and Alipay, go public. And according to several sources close to both companies Carol Bartz is making a tense situation worse.