April 07, 2011 at 11:45 AM EDT
Will Facebook Ever Be an E-Commerce Powerhouse?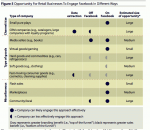 A big factor in the $75-billion theoretical market value Facebook has amassed is the idea that the social network will become a major e-commerce player. But a new report from Forrester Research argues that Facebook may never actually achieve that goal for a number of reasons.