October 05, 2011 at 13:38 PM EDT
Pristine Advisers, LLC Announces Closed-End Fund Conference and Webcast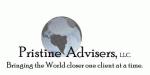 NEW YORK, NY -- (Marketwire) -- 10/05/11 -- Pristine Advisers, LLC, an International Investor Relations and Financial Communications firm, is organizing a Closed-End Fund Conference titled "Insight and Enlightenment into the World of Closed-End Funds," at the Grand Hyatt, New York City on Wednesday, November 9th, 2011.
"There are many financial conferences, but none that are specific to Closed-End Funds," states Patricia Baronowski-Schneider, President of Pristine Advisers. "We saw a void and thought it necessary to give our clients and other Closed-End Funds a proper platform to present the various types of Closed-End Funds available to investors. This investment vehicle has been around for more than a century yet the types of Funds available today are very diverse in nature. There is much to discuss."
The event is hosted by the Closed-End Funds. Executives of the Funds will be presenting on the Fund performance, marketplace and in the case of the international funds, they will also discuss an outlook for that region.
Aberdeen Asia-Pacific Income Fund, Inc. (NYSE: FAX)
ASA Gold and Precious Metals Limited (NYSE: ASA)
First Trust Senior Floating Rate Income Fund (NYSE: FCT)
Keating Capital, Inc. (NasdaqCM: KIPO Reserved)
The Asia Pacific Fund, Inc. (NYSE: APB)
The Central Europe and Russia Fund, Inc. (NYSE: CEE)
The European Equity Fund, Inc. (NYSE: EEA)
The Greater China Fund, Inc. (NYSE: GCH)
The Japan Equity Fund, Inc. (NYSE: JEQ)
The Mexico Fund, Inc. (NYSE: MXF)
The New Germany Fund, Inc. (NYSE: GF)
The panel discussions will explore the investment advantages of the international markets, dividends, return on capital, leverage, pitfalls of investing, changing capital structure, investing in new IPOs, and trading Closed-End Funds. The panels are composed of industry experts including analysts from Morningstar, Wells Fargo Advisors, Morgan Stanley Smith Barney, BofA Merrill Lynch and investors from Lazard Asset Management, Closed-End Fund Advisors and Shaker Financial Services.
There is no fee to attend the event. Interested parties can seek additional information and register to attend or view the webcast at www.cefnetwork.com.
For more information contact:

Pam O'Brien
Senior Vice President
Tel.: + (34) 673 66 66 08
Email Contact