December 08, 2011 at 10:45 AM EST
Net:Work live video coverage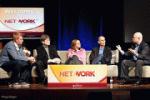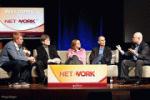 Today at Net:Work 2011, we'll look at how many things once considered the future of work are already here, and what changes are headed our way in years to come. If you can't attend in person, watch our live video coverage of the event here.
For many of us, work is no longer a place that we go to. It's a thing we do — from home, on planes, in coworking spaces and from anywhere else with a Wi-Fi connection and decent cell service.
Today at Net:Work 2011, held at San Francisco's Mission Bay Conference Center, we'll look at how work is changing and how it will continue to change in years to come. The staff of GigaOM and GigaOM Pro will talk with people on the front lines of these changes about the effects of this always-on workforce on the worker, robots as the next-gen telepresence device, how new interfaces such as gesture and voice will affect our physical workspaces, and what traits companies should be looking for in their future managers. We'll also hear case studies from companies such as SAP and InterContinental Hotels Group to hear first-hand how they have dealt with the challenges of the new workforce.
Our livestream of the event begins at 8:25 a.m. PT on Thursday, December 8, and we will be live-blogging the onstage sessions. Please join the conversation on Twitter (use the #WorkConf hashtag and follow @WorkConf).
Related research and analysis from GigaOM Pro:
Subscriber content. Sign up for a free trial.
---