January 17, 2012 at 17:23 PM EST
Yahoo co-founder Jerry Yang resigns after 16 years as "Chief Yahoo"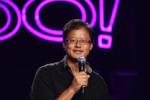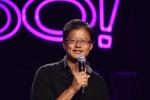 Yahoo co-founder Jerry Yang has resigned from Yahoo's board of directors and all his other positions with the company, effective Tuesday. Yang has been with Yahoo since he co-founded the company in 1995; his departure comes less than two weeks after Scott Thompson joined as CEO.
Yahoo co-founder Jerry Yang
Yahoo on Tuesday announced that co-founder Jerry Yang has resigned from Yahoo's board of directors and all his other positions with the company. The resignation is effective today.
Jerry Yang co-founded Yahoo back in 1995 along with David Filo. Since then, Yang has been very active with the company, serving for a short time as CEO and otherwise maintaining a spot on the board of directors and the cheeky title of "Chief Yahoo."
It's been a tumultuous time in Yahoo's top ranks in recent months: In September, Carol Bartz was abruptly ousted from the CEO spot, and Yahoo was without a chief executive for nearly four months as M&A rumors swirled around the company. Former eBay executive Scott Thompson took the company's helm in early January, but many industry watchers say he has a tough road ahead to get Yahoo back on track as competition in the tech and new media spaces is tougher than ever.
For some, Yang's departure may come as a bit of a surprise, as his loyalty to Yahoo has seemed unwavering throughout all the drama — just a few months ago, he was even rumored to be in talks to lead a deal to take the company private. But this also means that now Yahoo can be fully prepared to make a clean start as it works to reestablish itself as an industry leader. Either way, it's official: Jerry Yang is now on the list of tech founders who have left the companies they helped start.
According to Yahoo's press release, Yang's resignation letter to Yahoo board chairman Roy Bostock reads:
"My time at Yahoo!, from its founding to the present, has encompassed some of the most exciting and rewarding experiences of my life. However, the time has come for me to pursue other interests outside of Yahoo! As I leave the company I co-founded nearly 17 years ago, I am enthusiastic about the appointment of Scott Thompson as Chief Executive Officer and his ability, along with the entire Yahoo! leadership team, to guide Yahoo! into an exciting and successful future."
Photo courtesy of Flickr user YodelAnecdotal
Related research and analysis from GigaOM Pro:
Subscriber content. Sign up for a free trial.
---