January 24, 2012 at 15:50 PM EST
Formspring doubles down on mobile to fight unique user dip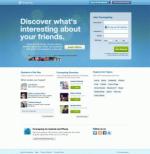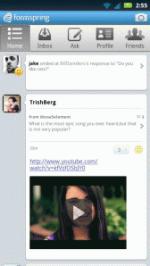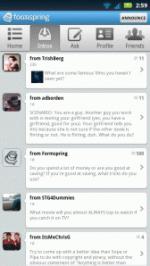 Social Q&A site Formspring has experienced a dip in monthly unique visitors, as the two-year-old startup transitions out of the role of hot newcomer. The company is looking to aggressive mobile web and app development and an updated design to get the growth back on track.
Social Q&A site Formspring is focusing on aggressive mobile development and a fresh new web design as it works to fight off a recent dip in monthly unique visitors.
On Tuesday afternoon, Formspring will debut its first official native Android app. The company, which already has an iOS app on the market, is also working on fleshing out the mobile web version of its site by updating its features and making it more fun to use. The revamped mobile website should launch sometime in the next few months, according to Formspring.
Also on Tuesday, Formspring will unveil a redesigned homepage meant to help people discover other users who share their interests and interact more with the celebrities and brands that are active on the site.
Screenshot of Formspring's new homepage (click to enlarge)
At just over two years old, it seems that Formspring has run into a bit of a slowdown in growth. The company tells me its monthly unique users are now 25 million — an impressive number, yes, but it's a 16 percent decline from the 30 million monthly uniques it was fielding a couple months ago in November.
Now, it bears mention that the decline could very well be attributed to seasonal ups and downs. For instance, Formspring's main user base is young people between the ages of 13 and 24, so something as simple as the busy start of a new semester could play a role here. Also, the site's registered users continue to grow: In December alone, Formspring saw some 500,000 new users sign-ups, the company says.
But regardless of the silver lining, Formspring is taking a proactive stance in fighting off the decline, a spokesperson said via email:
"There are very few websites that can claim a half million + sign-ups per month. That said, innovation and more features are what make a service like Formspring continue growing, and their Android and new homepage launch as well as other plans in the pipeline all are created with that need in mind."
The type of rapid growth Formspring experienced in its early days is a difficult thing to maintain, especially as a startup transitions from being a hot new trend to an established, revenue-generating entity. But as long as people are curious about each other, it seems that Formspring stands to have a solid position in the market.
Here are a couple screenshots of Formspring for Android (click to enlarge):
Related research and analysis from GigaOM Pro:
Subscriber content. Sign up for a free trial.
---