January 26, 2012 at 02:00 AM EST
Rhapsody buys Napster's Euro assets, targets Spotify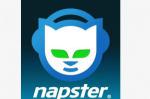 Music subscription service Rhapsody is going to Europe - but not under its own name: The company will use the Napster brand in the U.K. and Germany to compete with Spotify. The company announced the acquisition of Napster's foreign assets three months after it bought Napster USA.
Streaming music subscription service Rhapsody is expanding internationally by buying Napster's assets in Germany and the U.K., the company announced early Thursday morning. Financial details of the transaction were not revealed.
Rhapsody had previously bought Napster's U.S. business and subsequently laid off pretty much everyone, but its plans for Europe are looking a little different. All employees will keep their job, according to a press release, and they won't even have to get new business cards: The service will continue to be called Napster in both countries, but subscribers will be migrated to Rhapsody's infrastructure (and presumably will have to download the company's client) in March. The pricing of the service will stay the same in both countries as well.
The question is: Will the Napster brand help Rhapsody to take on Spotify, which has been dominating the music subscription business in Europe? Spotify is already the biggest subscription service in the U.K., where Napster is currently holding the number two spot. Spotify hasn't launched in Germany yet, even though there are rumors that such a launch is imminent. Napster is believed to have a 70 percent market share in that country, and is competing with smaller players like the Cologne-based streaming service Simfy.
Related research and analysis from GigaOM Pro:
Subscriber content. Sign up for a free trial.
---