August 29, 2012 at 15:48 PM EDT
ISee3D Annual Special Meeting Results and Corporate Update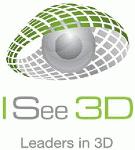 VANCOUVER, BRITISH COLUMBIA -- (Marketwire) -- 08/29/12 -- ISee3D Inc., (TSX VENTURE: ICT) ("ISee3D" or the "Company"), developer of single lens 3D technology, wishes to announce that, following an annual and special meeting of shareholders held on August 29, 2012, the following persons were elected to the board of directors:
John Dougherty: Mr. Dougherty has had a career spanning over 30 years as an investment advisor and broker. He has significant experience related to restructuring and developing businesses in the public sector.
Don Stevenson: Previously a director of the Company between September and December, 2011, Mr. Stevenson has been in the investment industry since 1967 and has worked as a retail broker and institutional salesman in the corporate finance area. He has held numerous senior executive management positions throughout his career.
Tom Mitchell: Mr. Mitchell is the founder of ISee3D and the inventor of the Company's core technology. During his early tenure with ISee3D Inc. (formerly International Telepresence), he operated the Company as a medical device company manufacturing endoscopy imaging systems for 11 years and took ISee3D public. Mr. Mitchell is a registered Professional Engineer with a degree in Electrical Engineering and minor in the Master's Management Science program from the University of Waterloo.
Shareholders also approved the re-appointment of MNP LLP as auditors for the ensuing year.
At a board meeting subsequent to the annual and special meeting, John Dougherty was named President, CEO, and Chairman of the Board of Directors.
About ISee3D
ISee3D is leading 3D single lens capture - from consumers and broadcast to health care, security and military. The company has introduced commercially feasible single lens, single camera 3D capture technology. Scalable in size and wavelength, the patented technologies can be applied across many devices. ISee3D continues to aggressively pursue the best in 3D innovation to ensure an immersive 3D viewing experience, rather than the traditional two lenses or 2D conversion approaches that are the current standard. The company is headquartered in Vancouver with offices in Toronto.
NEITHER TSX VENTURE EXCHANGE NOR ITS REGULATION SERVICES PROVIDER (AS THAT TERM IS DEFINED IN THE POLICIES OF THE TSX VENTURE EXCHANGE) ACCEPTS RESPONSIBILITY FOR THE ADEQUACY OR ACCURACY OF THIS RELEASE.