September 17, 2012 at 14:35 PM EDT
Want a Tesla Model S? Try eBay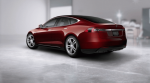 Want to get your hands on an early Tesla Model S electric car next month, but haven't gotten in the reservation line? Try eBay. There's one starting at $145,000 on the online auction site.
If you want to buy one of Tesla's new electric sedans, the Model S, chances are you'll have to wait until at least sometime next year to get it — the cars, which are being produced in the thousands, are on back order for months. That is, unless you want to turn to eBay: Autoblog Green found a Model S for sale on eBay for $145,000.
The seller, who could make a tidy profit of 50 percent off of the Signature Series, says the car will be delivered on October 14. Bids on the car — which has a red paint job and has a 265-mile range — are being accepted until September 20.
---