October 16, 2012 at 03:38 AM EDT
Do federated clouds deliver?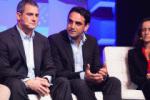 Federated clouds, the idea that customers can span different clouds with their computing and data, decided on cost, location or other variables, isn't really available today, but there's hope that it will emerge in the future and help service providers compete against Amazon.
Federated clouds are like chupacabras– the mythical goat vampires of the Southwest — people think they have really seen them, but everyone has a slightly different vision of what one looks like. In a panel Tuesday at Structure:Europe, GigaOM's Barb Darrow led Ditlev Bredahl, CEO of OnApp; Mark Cravotta, SVP Worldwide Sales at Tier 3; David Drai, Chief Strategist Emerging Products Business Unit at Akamai; and Pascale Vicat-Blanc – CEO of Lyatiss in a lively discussion that covered Amazon, the future of service provider clouds and how Europeans don't like to buy cloud computing, but are fine with purchasing on-demand virtualized servers. Check out the video below for more.