November 01, 2012 at 15:35 PM EDT
Trains Roll, but Northeast Struggles Back From Sandy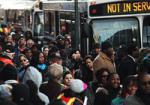 New Yorkers felt the rumble of subway trains for the first time in four days on Thursday but gasoline shortages persisted in the Northeast and emergency crews struggled to reach the worst-hit areas and restore power to millions of people.
Related Stocks:
ALLSTATE CORPORATION
AMERICAN INT'L GROUP, Inc.
BOB Evans Farms
BRIGGS & STRATTON CORP.
BRINKER INTERNATIONAL
Buffalo Wild Wings, Inc.
C.H. Robinson Worldwide, Inc.
CHIPOTLE MEXICAN GRILL, Inc.
CHUBB CORPORATION
CONOCOPHILLIPS
CONSOLIDATED EDISON, Inc.
CVS CAREMARK CORPORATION
Cheesecake Factory
Costco Wholesale Corp
Cracker Barrel Old Country Store, Inc,.
DARDEN RESTAURANTS, Inc.
DELTA AIR LINES, Inc.
DUKE ENERGY CORPORATION
DUNKIN' BRANDS GRP
FEDEX CORPORATION
FIRSTENERGY CORP.
GAP, Inc.
GATX CORPORATION
GOLDMAN SACHS GROUP, Inc.
HOME DEPOT, Inc.
JetBlue Airways Corp
KOHLS CORPORATION
LOWES COMPANIES, Inc.
MACY'S, Inc.
NORDSTROM, Inc.
NORFOLK SOUTHERN CORP.
PENNEY COMPANY, Inc.
PUBLIC SERVICE ENTERPRISE GROUP INCORPORATED
Panera Bread Co
Red Robin Gourmet Burgers, Inc.
SOUTHWEST AIRLINES CO.
SUPERVALU, Inc.
Saks, Inc.
Sears Holding Corporation
TARGET CORPORATION
THE TRAVELERS COMPANIES, Inc.
TJX COMPANIES, Inc.
Texas Roadhouse, Inc.
UNION PACIFIC CORP.
UNITED PARCEL SERVICE, INC. CLASS B
UNITED STATES GASOLINE FUND, LP
US Airways Group, Inc.
WAL-MART STORES, Inc.