November 12, 2012 at 06:00 AM EST
Rio Verde Minerals Announces Third Quarter 2012 Results and Provides Project Update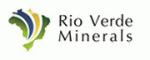 TORONTO, ONTARIO -- (Marketwire) -- 11/12/12 -- Rio Verde Minerals Development Corp. (TSX: RVD) ("Rio Verde" or the "Company") announced today the financial results and related management's discussion and analysis for the three and nine months ended September 30, 2012.
Review of Q3 2012 Financial Statements
During the three months ended September 30, 2012, Rio Verde invested C$1,652,587 in exploration costs at its three active exploration projects. The Company incurred a net loss and comprehensive loss of C$889,887 (C$0.01 per share) in the period, comprised of compensation, professional fees, and office and administration expenses.
As at September 30, 2012, Rio Verde had working capital of C$11,247,350, and total assets of C$51,693,963, including C$39,440,199 in exploration and evaluation assets.
Bonito Phosphate Project
During the quarter, the Company changed the name of its primary phosphate project, previously known as the Fosfatar Phosphate Project, to the Bonito Phosphate Project ("Bonito"). The name was changed in recognition of the nearby municipality of Bonito, in the state of Para.
In Q3 2012, Rio Verde started four new agronomic tests on Thermophosphate produced at the Sapucaia Target at the Bonito Phosphate Project. Two additional agronomic tests are planned for Q4 2012. The information obtained from these tests will be used to start the process of product registration at the Brazilian Agriculture Ministry. Product marketing, and negotiation of letters of intent (LOIs) with potential off-takers, is also well underway.
The Company expects to receive the final mine design for the Bonito Phosphate Project from Promon Engenharia Ltda. in Q4 2012. Conditional upon a positive result from this final design and approval from the Company's board of directors, the Company will seek to secure debt in Q4 2012, with production currently expected to commence in Q1 2013.
Sergipe Potash Project
In Q4 2012, the Company will continue the 3D seismic programs at the Sergi Project and Capela Project at the Sergipe Potash Projects. These seismic programs will allow for preliminary evaluation of each project's potential and will improve the Company's understanding of the local geology. Conditional upon positive results from the seismic campaign, a drill program is planned for Q1 2013.
Phosphate Pipeline
In Q4 2012, the Company will be conducting first-pass drilling programs at the Mandacaru, Santa Quiteria and Caninde Phosphate Projects, for a total of approximately 1,500m of drilling. Follow-up drilling programs have conditionally been planned for each of the projects, and will be evaluated upon completion of the initial drilling. The goal of this exploration is the delineation of at least one NI 43-101 Inferred resource.
Rio Verde on Business Television
Rio Verde's President & CEO, Stephen Keith, was recently profiled by Business Television ("BTV") as part of its CEO (Company Execs Online) Clips series. The video has been posted on Thomson Reuters Insider Network, BNN.ca Finance page, Rogers: Capital Magazine, Stocktwits.tv, German Financial Portal: Investor.sms, Thomson Reuters Insider Network, MSN Money, Stockhouse and YouTube.
The video can be viewed at:
http://www.ceoclips.com/companies/Interview-with-Rio-Verde-Minerals-CEO-Stephen-Keith.html
Rio Verde's financial statements and accompanying management's discussion and analysis for the period ending September 30, 2012, will be available at www.sedar.com and www.rvminerals.com. Due to the summary nature of this release, it should be read in conjunction with the Company's audited financial statements and management's discussion and analysis.
About Rio Verde
Rio Verde Minerals Development Corp. (TSX: RVD) is a publicly traded company focused on the exploration and development of fertilizer projects in Brazil. The Company's goal is to become the leading Brazilian fertilizer mining and development company by selecting prime assets that are near infrastructure, with known mineralization, in regions without significant social or environmental issues. The Company plans to fast-track the best projects to development to create stakeholder value.
Rio Verde holds one potash project and a portfolio of phosphate projects in Brazil. Potash and phosphate fertilizers have favourable supply and demand dynamics, and Rio Verde has a significant cost advantage by being based in Brazil, a country that imports about 90% of its potash and 50% of its phosphate needs. Rio Verde's near-term primary objective is to focus its potash exploration on establishing a Canadian National Instrument 43-101 resource.
Forward-Looking Statements
This press release contains forward-looking statements. All statements, other than of historical fact, that address activities, events or developments that the Company believes, expects or anticipates will or may occur in the future (including, without limitation, statements regarding the estimation of mineral resources, exploration results, potential mineralization, potential mineral resources and mineral reserves) are forward-looking statements. Forward-looking statements are often identifiable by the use of words such as "anticipate", "believe", "plan", may", "could", "would", "might" or "will", "estimates", "expect", "intend", "budget", "scheduled", "forecasts" and similar expressions or variations (including negative variations) of such words and phrases. Forward-looking statements are subject to a number of risks and uncertainties, many of which differ materially from those discussed in the forward-looking statements. Factors that could cause actual results or events to differ materially from current expectations include, among other things, without limitation, failure to establish estimated mineral resources, the possibility that future exploration results will not be consistent with the Company's expectations, the price of potash and phosphate, changes to regulations affecting the Company's activities, including tax and trade laws and policies; delays in obtaining or failures to obtain required regulatory permits and approvals from government authorities; delays in commencing the Company's proposed drilling program, exploration costs varying significantly from estimates; uncertainties relating to the availability and costs of financing needed to complete exploration activities and demonstrate the feasibility of the Company's projects; the success of future exploration and development initiatives; and other risks involved in the mineral exploration and development industry. Any forward-looking statement speaks only as of the date on which it is made and, except as may be required by applicable securities laws, the Company disclaims any intent or obligation to update any forward-looking statement.