November 26, 2012 at 11:56 AM EST
Toyota Is Back, but Can It Stay On Top?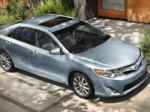 The competition from refreshed GM, Ford and Honda models will make it tough for Toyota to surge past Ford into 2nd place. If the economy perks up, so will truck sales and Ford should further strengthen its 15.5% market share.