December 05, 2012 at 15:32 PM EST
Why Is Alan Simpson Dancing Gangnam Style?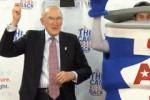 With efforts in Washington to avoid the "fiscal cliff" bogging down, former Sen. Alan Simpson has taken a drastic step in his campaign to trim the nation's hemorrhaging $16 trillion debt. Many steps: He's dancing Gangnam style.