December 06, 2012 at 06:47 AM EST
Will JPMorgan's 'Jes' Staley Jump Ship?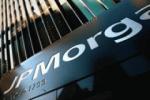 JPMorgan investment bank chairman James E. "Jes" Staley is plotting his next move. Baltimore asset manager Legg Mason approached Staley to discuss its CEO position earlier this fall, but talks are said to have fallen apart in the last month, according to people familiar with the matter.