Bayer Announces Bee Care Center at ASTA
The seed may be first, but bees are still important when it comes to agricultural production and Bayer CropScience was pleased to announce plans for a new North American Bee Care Center during last week's American Seed Trade Association expo. … Continue reading →
The seed may be first, but bees are still important when it comes to agricultural production and Bayer CropScience was pleased to announce plans for a new North American Bee Care Center during last week's American Seed Trade Association expo. The company plans to break ground in February 2013 on the center which will serve as a gathering place for researchers, bee experts, students and other visitors to meet regularly with leading Bayer scientists.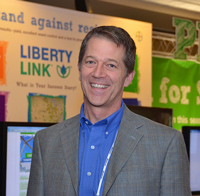 Bayer Seed Growth Lead Brad May says the Bayer Bee Care Center is dedicated to promoting and protecting bee health for everyone. "This bee health care center is to help talk to beekeepers," he said. "We want to be able to look at the diseases and the varroa mite and everything about bee health because agriculture is our lives and bees are agriculture."
Brad says they always have a lot to talk about at the ASTA 2012 CSS and Seed Expo. "Everything starts with the seed," he said. "We have the seed, the seed growth products, application equipment that goes with the seed, colors and coatings, we're just a strong supplier."
Attendees at the expo this year showed a lot of interest in Poncho/VOTiVO seed treatment for insect and nematode protection and the On Demand™ application technology. Brad tells a story about one of his first users of the On Demand system who didn't get to use it much himself because his 17-year-old daughter treated everything. "It's all touch screen, you're just moving 15 gallon kegs, it's a closed system," Brad related, adding that the new system led his client's daughter to develop a new interest in agriculture!
Interview with Brad May