December 12, 2012 at 03:00 AM EST
After More Than a Foot of New Snow Angel Fire Resort is Set to Open This Weekend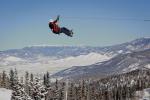 Winter made a welcomed return, dropping 14 inches of fresh snow and very cold temperatures at Angel Fire Resort, located in the Southern Rockies of New Mexico. The resort has been taking advantage of the colder temperatures throughout the past six weeks, making snow in anticipation of this year's opening, set for this Friday, December 14. The additional natural and man-made snow has allowed the resort to open more trails.
Angel Fire Resort, Angel Fire, N.M. - Angel Fire Resort will open one of the nation's only winter multi-station ziplines this Friday, December 14. The Resort received over 14 inches of fresh snow for this Friday's opening. (Photo: Charles Olsen, Angel Fire Resort)
"We've been able to keep the systems running throughout the night since October 31 and our crews are working consistently to get as much out of the cold temperatures as possible," said Jamie Seifert, mountain operations manager, Angel Fire Resort. "Clearly the more natural snow we can add in is great, but in the meantime, it's our job to get the mountain ready, so we are focusing our efforts on snowmaking and getting our Winter Zipline ready for this season."
The resort will be opening 3.5 miles of trails for skiers and boarders, and the Nordic Center, as well as their 4-segment Winter Zipline Tour.
Beginner skiing/snowboarding trails, the bunny hill and the Angel Fire Ski School will all be open starting December 14, creating a great landscape for those just learning the sport.
The resort has also decided to keep the brand new multi-station Zipline Tour at the summit of the Angel Fire Resort ski mountain open for the winter. The Angel Fire Zipline Adventure Tour is one of the highest elevation zipline tours in the United States and one of the only ones open during the winter ski season. It's also a first for the state of New Mexico. The resort opened the zipline in July and due to its growing popularity, officials have decided to keep it open, weather contingent, this winter. The 4-segment tour gives adrenaline seekers an extra kick as they fly high above the snowy forest floor as they traverse from peak to peak. Reservations for the popular attraction are encouraged. BRoll of the Winter Zipline can be found here: http://www.youtube.com/watch?v=xy9xRMo5F50
For its second year, the resort will also host a state-of-the-art Nordic Center. The Nordic Center offers the best in cross-country skiing and snowshoeing with over 15 kms of groomed trails. The Nordic Center is located at the $16 million Angel Fire Resort Country Club, creating a one-of-a-kind Nordic experience in northern New Mexico. This year the resort will offer a shuttle service from the Lodge to the Nordic Center. The Nordic Center will also sell a "Fitness Pass" which will include a day pass for Nordic Skiing, full use of the Country Club's modern workout facilities and yoga room, indoor swimming pool and locker room facilities.
Angel Fire continues to focus on being the most family friendly resort in the Rockies by offering extensive beginner runs, development terrain parks, a sledding hill, and day and night snow tubing on the Polar Coaster tubing hill complete with a 900' moving carpet.
New this Season: Our Children's Ski & Snowboard School has partnered with Flaik, a GPS-based Alpine Guest Tracking System. Children enrolled in lessons will be equipped with a lightweight armband locator for all lift serviced lessons. Real-time tracking is available for the ski school management and parents to immediately ascertain the location of individual children. Images are captured multiple times per second, allowing detailed analysis of location and turn shape. This system ensures an unprecedented level of security for Resort Guests and peace of mind for parents, instructors and management at Angel Fire Resort. In addition parents and children can view their runs, vertical feet skied and other stats online.
End of Days Promotion
THIS WINTER AND NEXT WINTER SEASON PASS + SUMMER PASS = $499
In the spirit of the Mayan Calendar, Angel Fire Resort is offering an End of Days Pass. If you trust we'll all still be here past 12/21/12 then you'll want to take a gamble on this promotion. For just $499 the pass will be good for this winter ski season, next winter ski season and the summer bike park season in between. The pass will only be available for purchase until the LAST day of the Mayan Calendar, 12/20/2012. The pass can be purchased here: http://www.angelfireresort.com/winter/mountain/lift-tickets
For more details about Angel Fire trail opening updates, winter rates, and reservations go to www.angelfireresort.com or call 800-633-7463.
SPECIAL OPENING WEEKEND RATE:
The resort is offering a special Adult Lift Ticket rate of just $49 for the opening weekend.
Media only: For new photos contact Krysty Ronchetti at krysty@sjcommunications.com or 505-821-9279.
About Angel Fire Resort
Angel Fire Resort is a top year-round mountain resort destination in New Mexico. Situated at over 8,600' elevation in the Southern Rocky Mountains, Angel Fire strives to offer the best value and choice for family outdoor recreation activities to its members, guests and visitors--including skiing, snowboarding, golf, mountain biking, tennis, fishing, hiking and more. For additional information on Angel Fire Resort, resort membership, or opportunities for real estate investment in Angel Fire, please call 800-633-7463 or visit the resort's website at www.angelfireresort.com.
Photos/Multimedia Gallery Available: http://www.businesswire.com/multimedia/home/20121212005430/en/