January 08, 2013 at 20:34 PM EST
Facebook Removes Instagram User Counts From Developer API After Holiday Traffic Confusion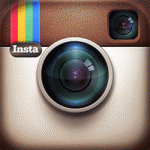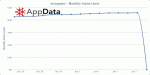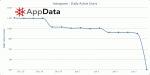 In the aftermath of a controversial story claiming Instagram's traffic numbers were down, it looks like the data that was the source of the story has now disappeared altogether. Instagram was in the spotlight, and owner Facebook's shares tumbled, when the New York Post ran a story between Christmas and New Years Day claiming that the popular photo app's traffic was falling off a cliff after the controversial introduction, and then reversal, of new terms of service. We and several others cast doubt on how the NYP read those traffic numbers, which came from AppData, and Facebook eventually said they were inaccurate, too. Now that data is no longer there. Facebook tells us that this is to bring Instagram in line with the rest of its own apps, which stopped appearing on AppData in December 2011. "We don't provide app usage metrics for apps owned or created by Facebook through our API," a spokesperson told TechCrunch. "We've updated our API to reflect this for Instragram, which would remove it from AppData's rankings." Facebook may need consider a wider change in the relationship between itself and third-party data services that track traffic across Facebook apps. Data on app growth helps developers monitor progress of themselves and their competitors, but it can be problematic if there is a glitch in the data channel, which in turn affects how overall traffic looks. Journalists who don't understand how services like AppData work can jump to negative conclusions (Insta-gate being one case in point). So, for now, this is what you see on Instagram's page: On January 7, it recorded 45.8 million monthly active users, as measured by Facebook logins; today: that number is zero. Similarly, for daily active users, there were 8.7 million yesterday (again, based on Facebook logins), and none today. (And I know Facebook has already dismissed the AppData numbers as inaccurate, but worth pointing out that the MAUs were steadily rising, while the DAUs since December 28 had continued to fall, again as measured by Facebook logins.) Elsewhere, there are other signs that Facebook is drawing the curtains on how third parties can track and use their traffic data to draw conclusions about the company. Last week, we reported some numbers, based on research from Benedict Evans, that showed how Facebook is performing on mobile: 192 million on Android, 147 million on iPhone, 48 million on iPad and 56 million using
In the aftermath of a controversial story claiming Instagram's traffic numbers were down, it looks like the data that was the source of the story has now disappeared altogether.
Instagram was in the spotlight, and owner Facebook's shares tumbled, when the New York Post ran a story between Christmas and New Years Day claiming that the popular photo app's traffic was falling off a cliff after the controversial introduction, and then reversal, of new terms of service. We and several others cast doubt on how the NYP read those traffic numbers, which came from AppData, and Facebook eventually said they were inaccurate, too.
Now that data is no longer there. Facebook tells us that this is to bring Instagram in line with the rest of its own apps, which stopped appearing on AppData in December 2011. "We don't provide app usage metrics for apps owned or created by Facebook through our API," a spokesperson told TechCrunch. "We've updated our API to reflect this for Instragram, which would remove it from AppData's rankings."
Facebook may need consider a wider change in the relationship between itself and third-party data services that track traffic across Facebook apps. Data on app growth helps developers monitor progress of themselves and their competitors, but it can be problematic if there is a glitch in the data channel, which in turn affects how overall traffic looks. Journalists who don't understand how services like AppData work can jump to negative conclusions (Insta-gate being one case in point).
So, for now, this is what you see on Instagram's page: On January 7, it recorded 45.8 million monthly active users, as measured by Facebook logins; today: that number is zero.
Similarly, for daily active users, there were 8.7 million yesterday (again, based on Facebook logins), and none today.
(And I know Facebook has already dismissed the AppData numbers as inaccurate, but worth pointing out that the MAUs were steadily rising, while the DAUs since December 28 had continued to fall, again as measured by Facebook logins.)
Elsewhere, there are other signs that Facebook is drawing the curtains on how third parties can track and use their traffic data to draw conclusions about the company.
Last week, we reported some numbers, based on research from Benedict Evans, that showed how Facebook is performing on mobile: 192 million on Android, 147 million on iPhone, 48 million on iPad and 56 million using Facebook Messenger. Facebook Camera is not doing so well — only around one million users, according to the last numbers Evans was able to get before Facebook removed its information about user counts. "Instagram is an obvious explanation here," Benedict writes.
Those numbers were collected by Evans using the figures that Facebook used to post on its apps noting how many installs there were. But like the data in AppData, those numbers are no longer there, either.
"Until late last year, Facebook disclosed monthly active users (MAUs, hereafter 'users' for simplicity) for its smartphone apps, on a rolling daily basis," he wrote in his original blog post. "I was always slightly nervous of publishing it, since you had to know how to get it and I suspected it might disappear if anyone pointed it out. Now, like fairy gold, the data has disappeared, so I can share it."
[Hat tip to Akshay Kothari]