January 14, 2013 at 19:13 PM EST
Ethiopian Potash Corp. Appoints New Director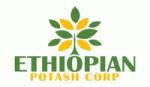 TORONTO, ONTARIO -- (Marketwire) -- 01/14/13 -- Ethiopian Potash Corp. (the "Company") (TSX VENTURE: FED) is pleased to announce the appointment of Antonino (Anthony) Vella as a director of the Company, effective immediately.
Mr. Vella is currently an independent consultant and has considerable experience within the private and public marketplace. Mr. Vella joins Ms. Hueston as an independent member of the Company's board of directors. Mr. Vella holds a Masters of Business Administration from the University of Victoria and is also a director of Black Sparrow Capital Corp.
The Company also announces that it has accepted the resignation of Bruce Cumming as a director of the Company effective immediately.
About Ethiopian Potash Corp.
Ethiopian Potash Corp. (TSX VENTURE: FED) is a Canadian company based in Toronto, Ontario and Addis Ababa, Ethiopia.
On behalf of the Board of Directors
George Roach, CEO & Director
Neither the TSX Venture Exchange nor its Regulation Services Provider (as that term is defined in the policies of the TSX Venture Exchange) accepts responsibility for the adequacy or accuracy of this release.