January 24, 2013 at 16:33 PM EST
Stutland: Can Coach Open a New Bag of Tricks?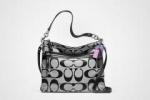 The company announced that their latest plan for reviving sales is to develop a lifestyle brand that moves across multiple products. This will undoubtedly involve increasing marketing expenses, and selling lower-margin women's apparel. But this pro says his money will be on the sidelines.