January 25, 2013 at 11:41 AM EST
Dow Nears Record, But Is It Just Another Bubble?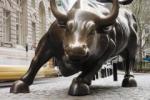 The Dow industrials are nearing an all-time high after a tumultuous recent past and a decidedly uncertain future. The problem is that the market needs the Fed to keep pushing stimulus, but eventually it must break free from that support if the gains are going to be sustained.