January 25, 2013 at 16:41 PM EST
Earnings Buzz: What to Watch in the Week Ahead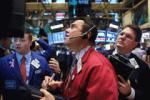 Earnings season is shifting into high gear in the final week of January, with six Dow Jones components, and more than a fifth of the S&P 500 companies reporting. With the Dow rallying to its highest level since October 2007 and the S&P hitting 1,500, expectations are building for a range of industries to reveal a strengthening economy.
Related Stocks:
A-ONLINE CAPIT
Allstate Corp.
Amazon.Com, Inc.
Apple, Inc.
AstraZeneca PLC ADS
Biogen Idec, Inc.
Blackstone Group LP
Boeing Co.
Caterpillar, Inc.
Chevron
Chubb Corp.
ConocoPhillips
Deutsche Bank AG
EMC Corp.
Eli Lilly & Co.
Exxon Mobil
FACEBOOK-A
Ford Motor Co.
Honda Motor Co. Ltd. ADS
MasterCard Cl A
Merck & Co., Inc.
NASDAQ OMX Group, Inc.
Pfizer, Inc.
Qualcomm, Inc.
VIACOM-A
VIACOM-B
VMware, Inc.
Yahoo, Inc.