January 29, 2013 at 12:55 PM EST
Stutland: Will Investors Clean Up on Bed Bath & Beyond?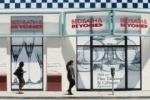 The company has proven they can deliver year-over-year revenue and earnings growth along with free cash flow, all while maintaining zero debt. Additionally, the retail sector has been strong for the past couple months, meaning that BBBY has room to play catch up.