February 04, 2013 at 13:05 PM EST
3D FlipBook Software Presents Many Useful Tools for Advertisers
Version 1.5.7 of 3D PageFlip Professional, a software product that allows designers to create virtual 3D page flipping books converted from PDF files, offers numerous advantages to users in the advertising industry. Combined, all of the multimedia and ease of use features provide for a set of tools that make any product, service, or subject appealing to a broad audience.
Effective advertising requires combining various types of multimedia. Text and static graphics alone don't normally cut it. It can be time consuming and expensive to create attractive ads on a regular basis, however. With 3D flipbook software, accomplishing this task is not that difficult and only one person can follow the steps to creating an ad or an e-book and publish it online.
With this innovative page flip software, users can add different styles of text, plus flash animations, audio, video, image slideshows, and links. Also, software users can insert logos, buttons, and even YouTube videos. The 3D flipping effect and a mouse-controlled rotation enhance the interactive qualities of the program. In addition, there is a 360 degree image sphere that can be inserted to add image presentations to select pages. The flip book maker, therefore, provides for a creative way of advertising any product and stand out from the competition.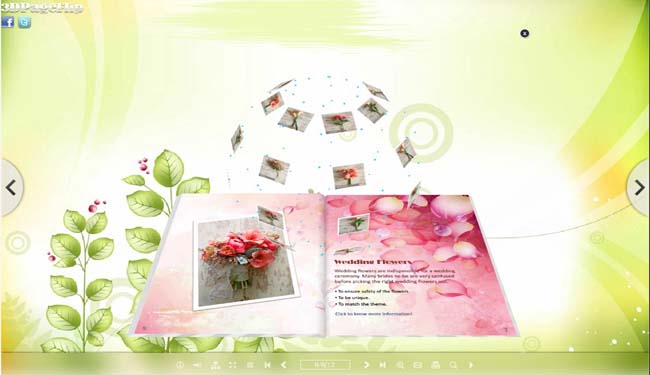 Readers can also zoom in, play background music, view full screen versions of thumbnails, search content, and print flip pages. Links to items such as slide shows, music, websites, and other sources of information help to create an interactive resource in addition to a single piece of advertising. Advertisers of any product can add music, while the e-book can be a medium for showcasing musical talent. Wedding book, real estate guide, or any product catalog designers can effectively advertise their products with 3D PDF to flip book converter.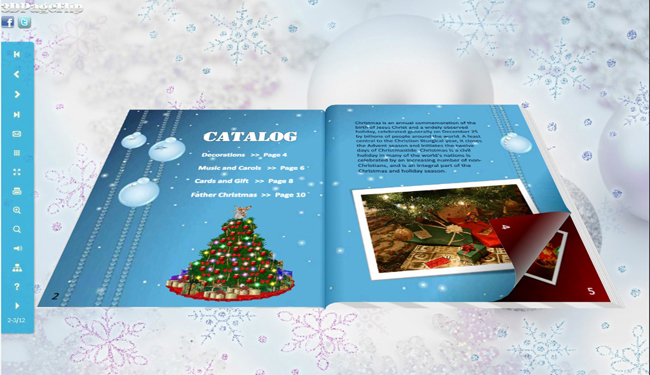 It is not only the ease in which multimedia can be added with the flip book PDF tool that makes it so appealing to advertisers. Each 3D e-book can be published online using file transfer systems or social media, so creations can be showcased in many ways. Creating an attractive ad as never been easier and is now the most effective way of advertising regardless of company, product, or industry. Flip books can also be viewed on iPhone, iPad, Android, and other mobile devices, as long as they have a browser with Flash support. Anyone in the advertising industry can access their target consumers who use desktop, laptop, or mobile computers and devices.
Visit http://www.3dpageflip.com/pageflip-3d-pro/index.html to learn more about the software and to see interactive demos.
| | |
| --- | --- |
| Permalink to: 3D FlipBook Software Presents Many Useful Tools for Advertisers | http://www.wireservice.co/technology/3d-flipbook-software-presents-many-useful-tools-for-advertisers/5868/ |
| | |
| --- | --- |
| Include this: 3D FlipBook Software Presents Many Useful Tools for Advertisers | <a href="http://www.wireservice.co/technology/3d-flipbook-software-presents-many-useful-tools-for-advertisers/5868/"><"3D FlipBook Software Presents Many Useful Tools for Advertisers"></a> |