February 08, 2013 at 12:03 PM EST
What Are Homeowners Doing With Refinance Savings?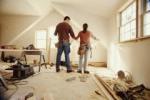 Refinancing homeowners dropped their interest rate an average 1.8 points last quarter, according to numbers released this week by Freddie Mac, paying about $3,600 a year less for a mortgage of $200,000. While prudent borrowers will use that extra cash to pay down debt, many are either forgoing the savings to shorten the term of the loan, or are spending it.