Sanding Ovations at the NCBA Trade Show
If you attended the 2013 Cattle Industry Convention and NCBA Trade Show this year then I know you passed the people playing in the sand a couple dozen times. I couldn't help but stop and snap a few pictures of … Continue reading →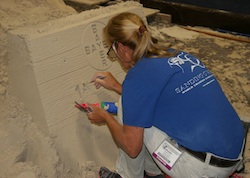 If you attended the 2013 Cattle Industry Convention and NCBA Trade Show this year then I know you passed the people playing in the sand a couple dozen times. I couldn't help but stop and snap a few pictures of the duo hard at work. I even asked if I could interview them and Meredith Corson, with Sanding Ovations, said sure.
Meredith and her husband, Dan Doubleday, met in the sand and soon fell in love and started Sanding Ovations. Combined, the couple has over 40 years experience in sand sculpting and travel the world building dynasties in the sand professionally and competitively.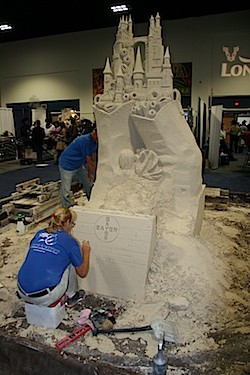 Did you know that the type of sand makes a huge difference in how you are able to mold it? Meredith and Dan are from Treasure Island, Fl., so they were excited to be able to work with sand from their own backyard. The sand is the first thing in and the last thing out.
Bayer Animal Health sponsors this three time world champion team each year for the NCBA Trade Show. They brought in about 16 tons of sand to build their version of "Boots on the Bay." A castle and corral reef coming out of a pair of cowboy boots.
Check out Sanding Ovation's website to book them for your next event or stare in amazement at photos of their past work.
Check out my complete interview with the Meredith: Interview with Meredith Corson - Sanding Ovations
You can find photos from the event here:Cattle Industry Convention & NCBA Trade Show Photo Album