February 25, 2013 at 16:11 PM EST
Vegas Violence: Too Much Sin in Sin City?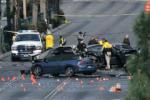 Even if your nickname is "Sin City," murder can be bad for business. The killings of three people before dawn last week in a shooting and fiery crash on the Las Vegas Strip has some concerned that tourists may stay away.