March 01, 2013 at 18:15 PM EST
Game Plan: What's On Cramer's Radar for the Week Ahead?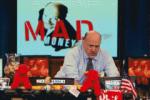 "Other people want to make friends, I just want to make you a little money," says Jim Cramer at the beginning of every Mad Money show. Following are the events on Jim Cramer's radar as he lays strategy for the week ahead.