March 05, 2013 at 08:22 AM EST
Edit Bookmark With Caption And Page Index For Flash Flip Book
Hong Kong, China – Permitting PDF documents to be transformed into digital flipbooks, FlipBook Creator Professional v1.8.8 offers additional ability to customers to edit colorful bookmark tabs flipbook with left "Bookmark Tabs" panel in the left side of the pdf to flippingbook software interface. Customers are now able to easily edit book marks to whichever page they like. Electronic pamphlets, publications, e-books, newsletters, and much more have just become simpler to view when compared to before ones.
The purpose of the bookmark tabs feature is to make the actual flipbook much more readable and understandable. Audiences will also discover the function is convenient and time-saving whenever close the book and return to it. The user-friendly feature adds to the already long list of functions that a good digital publication software product FlipBook Creator Professional v1.8.8 has become.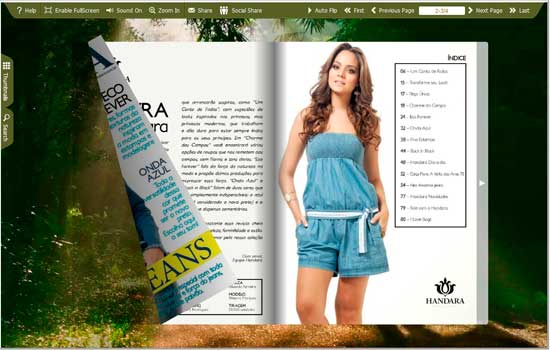 Actually, the virtual digital bookmark plays simply as an actual one while reading a good e-book. Visitors can click this to locate on targeted page in a second. They no more have to return and sift through info or refer to the search tool. The page turning software instantly saves their own location to have an instant go back to exactly where they were reading the virtual digital flipbook before.
It is very easy to design bookmark tabs. In the left "Bookmark Tabs" panel, user can add bookmark, edit its caption and page index, and customize its color with ease. The caption and page index and color information will also show in the panel as a list. To make the bookmark tabs clear in page flipping book, their colors should be different. When the designing is finished, user should click "Apply Change" to save all the settings.
Additionally, FlipBook Creator Professional v1.8.8 can maintain original book marks in PDF documents, plus links, table of content information, and the textual content alignment. Additional media functions allow the user to insert images and control buttons, add movie, and insert JavaScript function. A fully informational, entertaining, and interactive experience could be supplied to visitors regardless of what the subject is actually or what people anticipate from it.
All this is actually readable on the computer, laptop, or even mobile device like iPad or smart phone. When the pdf to flash flip book is for business purpose, the program features a Search engines Analytics function for monitoring and analyzing visitors who access to the digital flip-book. By doing this, seeing if they go to the company or product web site or purchase something as a result consequently gets much easier. '
To know more about FlipBook Creator Professional v1.8.8 and its new feature, visit www.flippagemaker.com/flippingbook-maker-pro/index.html.
| | |
| --- | --- |
| Permalink to: Edit Bookmark With Caption And Page Index For Flash Flip Book | http://www.wireservice.co/technology/edit-bookmark-with-caption-and-page-index-for-flash-flip-book/7209/ |
| | |
| --- | --- |
| Include this: Edit Bookmark With Caption And Page Index For Flash Flip Book | <a href="http://www.wireservice.co/technology/edit-bookmark-with-caption-and-page-index-for-flash-flip-book/7209/"><"Edit Bookmark With Caption And Page Index For Flash Flip Book"></a> |