March 07, 2013 at 23:39 PM EST
Are Asia's Property Markets Too Hot to Handle?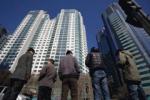 Asia's hottest real estate markets - China, Hong Kong and Singapore - have recently seen a slew of tightening measures by their governments to curb demand and cool soaring prices. While these measures may remove speculators from the markets in the short term, analysts tell CNBC there's not much that governments can do to control prices, without running the risk of destabilizing economies.