March 13, 2013 at 07:07 AM EDT
Nigerian Stocks: High Risk, High Reward?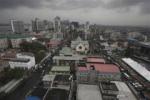 With seven expat workers killed in Nigeria this week and three sailors seized by pirates from a British cargo ship off the coast of the country - Nigeria doesn't seem like a very safe bet for investors. But according to one asset manager, the country still offers investors several opportunities, especially in the banking and consumer goods sectors.