March 13, 2013 at 16:58 PM EDT
Acquisition of Rio Verde by B&A Mineracao Completed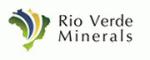 TORONTO, ONTARIO -- (Marketwire) -- 03/13/13 -- Rio Verde Minerals Development Corp. (TSX: RVD) ("Rio Verde" or the "Company") announces the completion of the acquisition of Rio Verde by B&A Fertilizers Limited ("B&A Fertilizers"), a wholly-owned subsidiary of B&A Mineracao S.A. ("B&A").
The acquisition was completed pursuant to the merger of Rio Verde and B&A Fertilizers under Section 170 of the BVI Business Companies Act, 2004 (as amended) whereby B&A Fertilizers is the surviving entity (the "Merger") and is effective on the date the articles of merger are registered by the Registrar of Corporate Affairs (British Virgin Islands).
Pursuant to the terms of the definitive agreement dated December 13, 2012 among Rio Verde, B&A and B&A Fertilizers, B&A will after completion of the Merger hold all of the ordinary shares of the merged company, and the holders of Rio Verde shares outstanding immediately prior to completion of the Merger are entitled to receive one redeemable merger share of the merged company, B&A Fertilizers, (each, a "Redeemable Share") for each share of Rio Verde (other than B&A, whose Rio Verde shares shall be cancelled for no consideration). The Redeemable Shares will entitle shareholders to cash consideration of CAD $0.40 per Redeemable Share (the "Consideration").
In order to receive the Consideration, non-registered shareholders should contact their broker or named intermediary and follow the instructions from such broker or named intermediary. Registered shareholders must return completed letters of transmittal and their Rio Verde share certificates to Olympia Transfer Services Inc. in accordance with the instructions set out in the letter of transmittal that was mailed to shareholders together with Rio Verde's information circular dated January 31, 2013, in connection with the Company's meeting of shareholders held on March 6, 2013 to consider the Merger. Additional copies of the letter of transmittal are available under Rio Verde's profile on SEDAR at www.sedar.com.
The Rio Verde Shares are expected to be formally delisted from the Toronto Stock Exchange (the "TSX") within three business days following the filing of certain final documentation with the TSX.
About Rio Verde
Rio Verde Minerals Development Corp. is currently a publicly traded company focused on the exploration and development of fertilizer projects in Brazil. The Company's goal is to become the leading Brazilian fertilizer mining and development company by selecting prime assets that are near infrastructure, with known mineralization, in regions without significant social or environmental issues. The Company plans to fast-track the best projects to development to create stakeholder value.
Rio Verde holds one potash project and a portfolio of phosphate projects in Brazil. Potash and phosphate fertilizers have favourable supply and demand dynamics, and Rio Verde has a significant cost advantage by being based in Brazil, a country that imports about 90% of its potash and 50% of its phosphate needs.
About B&A
B&A Mineracao S.A. is a Brazilian mining company focused on the exploration and development of iron ore, potash, phosphate, and copper assets in Brazil, Latin America and Africa. The company is a partnership between AGN Agroindustrial, Projetos e Participacoes Ltda. ("AGN"), founded by Roger Agnelli - former CEO of Vale S.A. and BTG Pactual - Brazil's largest independent investment bank, with a market capitalization of US$ 13.3 billion. Building on BTG's financial expertise and Mr. Agnelli's extensive experience in mining, B&A is an innovative global mining company.
Mr. Agnelli serves as B&A's Executive Chairman, with Mr. Eduardo Ledsham serving as CEO. Mr. Ledsham has close to thirty years of experience in the natural resources industry globally and acted as Executive Director of Global Exploration, Capital Implementation and Energy at Vale S.A. before joining B&A.
Contacts:
B&A Mineracao S.A.
Eduardo Ledsham
Chief Executive Officer
+55 31 3115 0650

B&A Mineracao S.A.
Renato Costa
Non Ferrous Director
+55 31 3115 0650