April 02, 2013 at 15:13 PM EDT
Vilcek Prizes Awarded to Notable Immigrants in Contemporary Music and Biomedical Science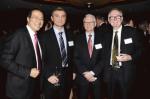 Yo-Yo Ma, Richard A. Flavell and Ruslan Medzhitov receive $100,000 prizes
NEW YORK, April 2, 2013 /PRNewswire-USNewswire/ -- Representatives of the musical and scientific communities came together for the presentation of the 2013 Vilcek Prizes in Biomedical Science and the Arts last night at the Mandarin Oriental Hotel.  Awarded annually by the Vilcek Foundation, the prizes recognize immigrants who have made lasting contributions to the arts and sciences.
(Photo: http://photos.prnewswire.com/prnh/20130402/DC87503)
The Vilcek Prizes in the Arts focused, this year, on the genre of contemporary music; cellist Yo-Yo Ma was the recipient of the $100,000 prize.  "One of the things I've been thinking about this evening, on the issue of immigration, is a term in ecology called the edge effect, where two eco systems meet," Mr. Ma said while accepting his prize.  "At the edge, you actually have the most diversity of new life forms.  If this were true in nature, this might also be true in society.  I suspect a lot of the extraordinary creativity of the people in this room, and of the recipients of the prizes, come from this kind of meeting."
Three Vilcek Prizes for Creative Promise in Contemporary Music, with cash awards of $35,000 each, were awarded to musicians aged 30 and under.  The recipients were British-born songwriter James "JHart" Abrahart; Ghanaian-born hip-hop artist Samuel Bazawule (AKA Blitz the Ambassador); and Armenian-born pianist Tigran. 
The Vilcek Prize in Biomedical Science was this year split between two winners: Richard A. Flavell and Ruslan Medzhitov, both professors and researchers at Yale University School of Medicine.  The Vilcek Prizes for Creative Promise in Biomedical Science, bestowed upon foreign-born biomedical scientists aged 38 or under, were awarded to Hashim Al-Hashimi, the J. Oncley Collegiate Professor of Chemistry and Biophysics at the University of Michigan; Michael Rape, Assistant Professor of Cell and Developmental Biology at the University of California, Berkeley; and Joanna Wysocka, Associate Professor at Stanford University.
The program ended with a performance by Yo-Yo Ma, accompanied by pianist and bagpiper Cristina Pato.  More photographs of the evening are available on Patrickmcmullan.com.
The Vilcek Foundation was established in 2000 by Jan and Marica Vilcek, immigrants from the former Czechoslovakia, and is dedicated to honoring the contributions of foreign-born scholars and artists living in the United States. The Foundation hosts events to promote the work of immigrants, awards annual prizes to prominent immigrant biomedical scientists, and sponsors cultural programs such as the Hawaii International Film Festival.  To learn more about The Vilcek Foundation, please visit Vilcek.org.
SOURCE The Vilcek Foundation