April 14, 2013 at 08:28 AM EDT
5 Trade Ideas that Can Make 500% in an Up Market
Are we having a correction or a pause for the next leg up? As noted by Dave Fry on his weekly SPX chart, the data isn't taking us down yet and, if earnings doesn't do the trick for the bears – then maybe GS has a point with their just-released 1,900 prediction for the S&P 500 . Given the fact that the Fed is inflating our money supply by about 10% a year and the BOJ is running their money supply up 20% a year – maybe it's not so outrageos to imagine our stock indexes will adjust accordingly . What's really been disturbing us is that our Materials indexes aren't following though. Not just oil and gold – those are silly things anyway – but copper and iron and corn and wheat and rice and rebar – things that are, traditionally, consumed in a healthy economy. But this is not an article about whether or not the S&P will be at 1,900 over the next couple of years or whether it SHOULD be at 1,600 now – this is an article about hedging for the upside – especially if you are in danger of being a bit too bearish now. Often we find that taking aggressive long-term spreads with offsetting puts can give us very nice returns. For instance, in Friday's post, I suggested a bullish play on DBA, which has very much been lagging the current rally and my trade idea on that index (tracking corn, wheat, soy beans and sugar) was: The DBA Jan $23/26 bull call spread is $2 and you can sell the 2015 $25 puts for $1.55 for net .45 on the $3 spread that's $2.78 in the money to start with a potential 566% return on cash if DBA makes $26 into January expirations. Although the trade idea can make 566% on cash, it's not a very aggressive play as it's already in the money. The downside is owning DBA at net $25.45 (now $25.95) if it's put to you in January, 2015 and the 2009 spike low on DBA was $22 but it never stayed much lower than $24 for more than a week or two at any point and hasn't been below $25 since July 2010, when the S&P was at 1,050. So, even in a bearish market – it's not going to be a bad …
Are we having a correction or a pause for the next leg up?
As noted by Dave Fry on his weekly SPX chart, the data isn't taking us down yet and, if earnings doesn't do the trick for the bears – then maybe GS has a point with their just-released 1,900 prediction for the S&P 500.  Given the fact that the Fed is inflating our money supply by about 10% a year and the BOJ is running their money supply up 20% a year – maybe it's not so outrageos to imagine our stock indexes will adjust accordingly.  
What's really been disturbing us is that our Materials indexes aren't following though.  Not just oil and gold – those are silly things anyway – but copper and iron and corn and wheat and rice and rebar – things that are, traditionally, consumed in a healthy economy.
But this is not an article about whether or not the S&P will be at 1,900 over the next couple of years or whether it SHOULD be at 1,600 now – this is an article about hedging for the upside – especially if you are in danger of being a bit too bearish now.  
Often we find that taking aggressive long-term spreads with offsetting puts can give us very nice returns.  For instance, in Friday's post, I suggested a bullish play on DBA, which has very much been lagging the current rally and my trade idea on that index (tracking corn, wheat, soy beans and sugar) was:
The DBA Jan $23/26 bull call spread is $2 and you can sell the 2015 $25 puts for $1.55 for net .45 on the $3 spread that's $2.78 in the money to start with a potential 566% return on cash if DBA makes $26 into January expirations.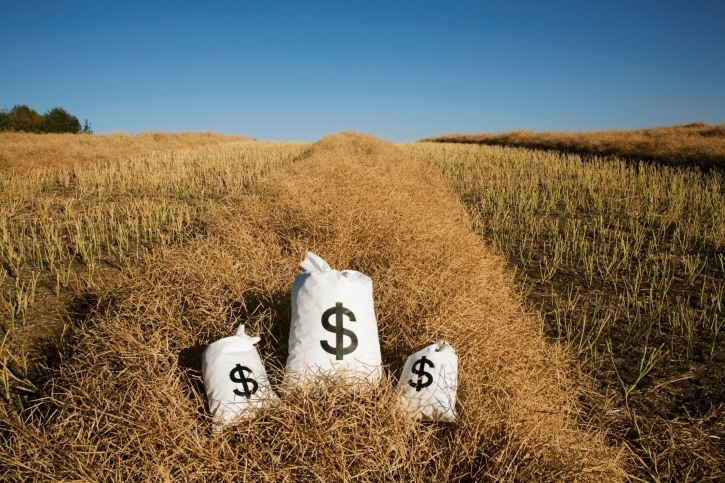 Although the trade idea can make 566% on cash, it's not a very aggressive play as it's already in the money.  The downside is owning DBA at net $25.45 (now $25.95) if it's put to you in January, 2015 and the 2009 spike low on DBA was $22 but it never stayed much lower than $24 for more than a week or two at any point and hasn't been below $25 since July 2010, when the S&P was at 1,050.  
So, even in a bearish market – it's not going to be a bad…