April 17, 2013 at 21:47 PM EDT
Weekly Jobless Claims Could Be Huge for Markets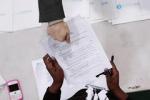 Weekly jobless claims will be more important than usual for markets Thursday, after an uneven series of claims reports this month and a surprisingly weak March employment report. Markets will also be watching the G-20 meeting, which convenes ahead of the weekend's spring meetings of the World Bank and International Monetary Fund in Washington.
Related Stocks:
Advanced Micro Devices, Inc.
AutoNation, Inc.
Baxter International, Inc.
Celanese Corp. Series A
Chipotle Mexican Grill
Freeport-McMoRan Copper & Gold
Google, Inc.
International Business Machines Corp.
Intuitive Surgical, Inc.
Microsoft Corp
Morgan Stanley
Nokia Corp. ADS
PPG Industries, Inc.
Peabody Energy Corp.
PepsiCo, Inc.
Philip Morris International, Inc.
Sherwin-Williams Co.
Union Pacific Corp.
UnitedHealth Group, Inc.
Verizon Communications, Inc.