May 06, 2013 at 17:10 PM EDT
Could Another 'Flash Crash' Be on the Way?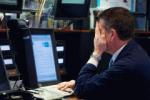 Three years after the "flash crash" of 2010, DirectEdge CEO William O'Brien said he doubts that it could happen again. DirectEdge has the third-heaviest volume of any U.S. stock exchange, behind the Nasdaq and New York Stock Exchange.