May 08, 2013 at 07:02 AM EDT
LP Building Products obtiene la aprobación ETA y CE para los productos LSL LP® SolidStart®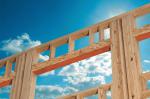 LP Building Products es la primera y única empresa que ha recibido la aprobación técnica europea (ETA en sus siglas en inglés) y la aprobación CE, el estándar de la industria para la comercialización de materiales de construcción en la Unión Europea, para las categorías de madera de virutas laminadas (LSL) LP® SolidStart®, que permiten a la empresa introducir otras soluciones alternativas a la madera tradicional y a la madera de chapa laminada (LVL en sus siglas en inglés) en el mercado europeo.
Engineered for consistency and strength, LP SolidStart LSL offers a host of advantages over traditional timber, including better fastener connections, straightness and increased design flexibility. (Photo: Business Wire)
Los productos que cuentan con la aprobación ETA y CE son los siguientes:
LP SolidStart LSL-Q Lite (1.35E),
LP SolidStart LSL-Q (1.55E),
LP SolidStart LSL-G (1.75E).
"Concebidos para proporcionar uniformidad y resistencia, los productos LSL LP SolidStart ofrecen una amplia gama de ventajas con respecto a la madera tradicional, incluidas unas mejores conexiones de las piezas de ensamblaje, mayor rectitud y mayor flexibilidad de diseño", comenta Al Huber, director internacional de ventas de LP Building Products. "Al obtener las dos aprobaciones ETA y CE de estos productos, podremos ofrecer a los constructores de la Unión Europea soluciones alternativas más rentables que los productos de la competencia".
LSL LP SolidStart están disponibles en espesores estándar de 29mm, 32mm, 35mm, 38mm, 45mm y 89mm. Tienen un ancho de hasta 619mm.
Existen en la actualidad siete distribuidores al por mayor de los productos de madera industrializada LP SolidStart: Falcon Panel Products Limited (Reino Unido); MBM Forest Products Limited (Reino Unido, SpanoTech (Bélgica), van Hoorebeke Timber (Bélgica), Wyder Engineered Timber Systems Limited (Reino Unido), DPW Te Paske y WWP Wood Products (Holanda- Door Stabalisers). Además, LP está buscando de forma activa distribuidores en Alemana y Francia.
Los productos LSL LP SolidStart LSL se fabrican principalmente a partir de árboles de tamaño menor y de rápido crecimiento. Estos productos han recibido el certificado de la cadena de custodia (CoC en sus siglas en inglés) tanto por parte del Programa de reconocimiento de sistemas de certificación forestal (Programme for the Endorsement of Forest Certification, PEFC) como de la Iniciativa para una industria forestal sostenible (SFI, por sus siglas en inglés).
Acerca de LP Building Products
Louisiana-Pacific Corporation es un fabricante líder de materiales de construcción de madera industrializada de calidad que incluye tablas OSB, productos de carpintería y revestimientos exteriores para su uso en construcciones residenciales, industriales y comerciales ligeras. Desde las fábricas de Estados Unidos, Canadá, Chile y Brasil, los productos LP se venden a constructores y particulares a través de distribuidores y vendedores de materiales de construcción y minoristas. Fundada en 1973, LP tiene su sede en Nashville, Tennessee, y cotiza en la bolsa de Nueva York bajo el valor LPX. Para más información, visite LPCorp.com/UK o contáctenos a través de IntlSales@LPCorp.com.
El comunicado en el idioma original, es la versión oficial y autorizada del mismo. La traducción es solamente un medio de ayuda y deberá ser comparada con el texto en idioma original, que es la única versión del texto que tendrá validez legal.
Fotos y galería multimedia disponibles en: http://www.businesswire.com/multimedia/home/20130508005824/es/