May 17, 2013 at 08:14 AM EDT
Big Hair, Big Market, Big Scandals: Talking Squawk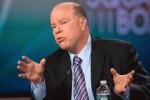 What a week on "Squawk Box!" Highlights include David Tepper's "My Cousin Vinny" market call, Cisco's John Chambers, Bloomberg's "Surveillance," the IRS, the AP, big hair and Sony, and the TRUTH about Joe's mop. This is "Talking Squawk."
Related Stocks:
Abercrombie & Fitch Co.
Cisco Systems, Inc.
Dell, Inc.
Dicks Sporting Goods, Inc.
Dollar Tree, Inc.
Foot Locker, Inc.
Gap, Inc.
Hewlett-Packard Company
Home Depot, Inc.
Honeywell International, Inc.
IRSA Inversiones y Representaciones S.A. ADS
JPMorgan Chase & Co.
Lowes Cos.
Medtronic, Inc.
Microsoft Corp
Ryanair Holdings plc
Saks, Inc.
Sears Holding Corporation
Sony Corp. ADS
Staples, Inc.
Target Corp.
Toll Brothers, Inc.
Wells Fargo & Co.