June 24, 2013 at 18:27 PM EDT
Cramer: Could China Derail US Recovery?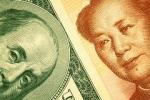 Sure China is a big influence on the market, but is it so big that it could take down the US? Cramer investigates
Related Stocks:
ARCH COAL, Inc.
Apple, Inc.
CATERPILLAR, Inc.
COACH, Inc.
COCA-COLA COMPANY
CUMMINS, Inc.
GENERAL MILLS, Inc.
GENERAL MOTORS COMPANY
General Electric
LAS VEGAS SANDS CORP.
NIKE, Inc.
PEABODY ENERGY CORP.
PEPSICO, Inc.
PROCTER & GAMBLE COMPANY
UNITED TECHNOLOGIES CORPORATION
WALTER ENERGY, Inc.
Wynn Resorts Ltd
YUM BRANDS, Inc.