June 28, 2013 at 17:04 PM EDT
Ethiopian Potash Completes Shares for Debt Transactions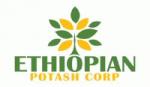 TORONTO, ONTARIO -- (Marketwired) -- 06/28/13 -- Ethiopian Potash Corp. (the "Company" or "EPC") (TSX VENTURE: FED) announces that it has settled outstanding debts owed to certain arm's length service providers by issuing an aggregate of 5,719,455 common shares at a deemed price of $0.10 per common share. The common shares issued in connection with the debt settlement are subject to a hold period that expires on October 29, 2013.
About Ethiopian Potash Corp.
Ethiopian Potash Corp. (TSX VENTURE: FED) is a Canadian company based in Toronto, Ontario and Addis Ababa, Ethiopia.
On behalf of the Board of Directors
George Roach, CEO & Director
Neither the TSX Venture Exchange nor its Regulation Services Provider (as that term is defined in the policies of the TSX Venture Exchange) accepts responsibility for the adequacy or accuracy of this release.
Contacts:
Ethiopian Potash Corp.
George Roach
Chief Executive Officer and Director
+44 779 626 3999
george@regentresources.co.za (FAX)

Ethiopian Potash Corp.
Michael Galloro
Chief Financial Officer
416 907 5644