July 10, 2013 at 07:52 AM EDT
Early Movers: FDO, HPQ, AIG, BBRY, COH & More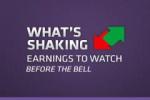 These are the stocks posting the largest moves before the bell.
Related Stocks:
AT&T, Inc.
ATLANTIC POWER CORPORATION
CITIGROUP, Inc.
CLIFFS NATURAL RESOURCES, Inc.
COACH, Inc.
DIRECTV
DUKE ENERGY CORPORATION
FAMILY DOLLAR STORES, Inc.
General Electric
Helen Of Troy Ltd
Hewlett-Packard Company
MOODYS CORPORATION
NABORS INDUSTRIES LTD.
NUSKIN ENTERPRISES, Inc.
PRUDENTIAL FINANCIAL, Inc.
RESTORATION HARDWARE HOLDINGS, Inc.
Research In Motion Ltd
Smithfield Foods, Inc.
TIME WARNER CABLE, Inc.
TIME WARNER, Inc.