July 26, 2013 at 20:53 PM EDT
Fed, GDP & jobs - get ready for a busy week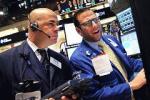 If you're looking for a slow summer day, you won't find it this week. On tap: A two-day Fed meeting, the GDP report, a slew of earnings and for the big finish, the July jobs report. Rest up.
Related Stocks:
AFLAC, Inc.
ALLERGAN, Inc.
ALLSTATE CORPORATION
AMERICAN INT'L GROUP, Inc.
AMERICAN TOWER CORP.
AMERIGAS PARTNERS, L.P.
ANADARKO PETROLEUM CORP.
Amgen, Inc.
Astrazenaca Plc Sweden Def Party
BARRICK GOLD CORP.
BOOZ ALLEN HAMILTON HOLDING CORPORATION
Buffalo Wild Wings, Inc.
CBS CORPORATION CLASS B
CHEVRON CORPORATION
CIGNA CORPORATION
CNA FINANCIAL CORPORATION
COMCAST HOLDINGS CORP. 2.0XCHANGEABLE SUBORDINATED DEBENTURES DUE OCTOBER 15, 2029
CONOCOPHILLIPS
China Industrial Gp Inc Unclassified
Comcast Class A
Comcast Corp
DIRECTV
Dell, Inc.
EXELON CORPORATION
EXPRESS SCRPTS HLDG
Exxon Mobil
FACEBOOK-A
Fast Retailing Co Ltd
Fast Retailing Co Ltd Unsponsored ADR
GENERAL GROWTH PROPERTIES, Inc.
GENWORTH FINANCIAL, Inc.
HERBALIFE LTD.
HERTZ GLOBAL HOLDINGS, Inc.
HONDA MOTOR CO., LTD.
HUMANA, Inc.
HYATT HOTELS CORPORATION
JPMORGAN CHASE & CO.
JetBlue Airways Corp
KDDI CORP
KDDI Corporation Unsponsored ADR
KRAFT FOODS GRP
LINKEDIN CORPORATION
LOEWS CORPORATION
LPL FIN HLDG
MARATHON PETROLEUM CORPORATION
MASTERCARD INCORPORATED
MEADWESTVACO CORP
MERCK & CO., Inc.
METLIFE, Inc.
MURPHY OIL CORP.
Metlife, Inc. 5.875% Sr. Notes, Nov. 21, 2033
Mitsubishi Motors
Mitsubishi Motors Corporation Unsponsored ADR
NIELSEN HOLDINGS N.V.
NYSE Euronext
Nintendo Co Ltd ADR
Nintendo Co Ltd-Ord-
OCCIDENTAL PETROLEUM CORPORATION
PERKINELMER, Inc.
PFIZER, Inc.
PG&E CORP
PROCTER & GAMBLE COMPANY
Ryanair Holdings plc
SEALED AIR CORP.
SHINHAN FINANCIAL GROUP CO.,LTD.
SODASTREAM INTL
SONY CORPORATION ADRS
SOUTHERN COMPANY
SPRINT CORPORATION SERIES 1
SWIFT ENERGY
Shinsei Bank Ltd Tokyo Sponsored ADR
Shutterfly, Inc.
Symantec Corp
Synaptics, Inc.
TENNECO, Inc.
THOMSON REUTERS CORPORATION
TIME WARNER CABLE, Inc.
TIME WARNER, Inc.
TOYOTA MOTOR CORPORATION
Tokyo Electron Ltd
Tokyo Electron Ltd Unsponsored ADR
Toshiba Corp Unsponsored ADR
VIACOM-B
VULCAN MATERIALS COMPANY
WEIGHT WATCHERS INTERNATIONAL, Inc.
Washington Post Co. Cl B
Whole Foods Market, Inc.
YELP, Inc.