July 30, 2013 at 20:41 PM EDT
Zombie economy overshadows fed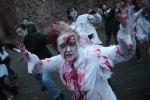 GDP data Wednesday is expected to show a slow-moving, zombie-like economy, as the Fed meets for a second day.
Related Stocks:
ALCATEL-LUCENT
ALLSTATE CORPORATION
CABOT CORPORATION
CBC Holding Company
COMCAST HOLDINGS CORP. 2.0XCHANGEABLE SUBORDINATED DEBENTURES DUE OCTOBER 15, 2029
Comcast Class A
Comcast Corp
DIAGEO PLC
DreamWorks Animation SKG, Inc.
ENERGEN CORPORATION
EXELON CORPORATION
GARMIN N
GOLDMAN SACHS GROUP, Inc.
HESS CORPORATION
HONDA MOTOR CO., LTD.
HUMANA, Inc.
Hudson City Bancorp, Inc.
JPMORGAN CHASE & CO.
LPL FIN HLDG
Lam Research Corp
MARRIOT INTERNATIONAL CLASS A COMMON STOCK
MASTERCARD INCORPORATED
METLIFE, Inc.
MURPHY OIL CORP.
Metlife, Inc. 5.875% Sr. Notes, Nov. 21, 2033
PG&E CORP
QUESTAR CORPORATION
SODASTREAM INTL
SOUTHERN COMPANY
SUNCOR ENERGY, Inc.
Shutterfly, Inc.
TALISMAN ENERGY, Inc.
TRULIA, Inc.
Whole Foods Market, Inc.
YELP, Inc.