August 08, 2013 at 09:00 AM EDT
Photo Release -- Samsung Selects ANADIGICS' ProEficient-Plus Solutions for Galaxy Mega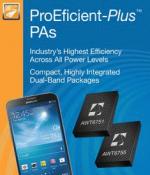 ANADIGICS' High Performance, Space-Saving Dual-Band ProEficient-Plus Power Amplifiers Deliver the Industry's Highest Efficiency Across All Power Levels to Extend Battery Life

WARREN, N.J., Aug. 8, 2013 (GLOBE NEWSWIRE) -- ANADIGICS, Inc. (Nasdaq:ANAD) (the "Company"), a world leader in radio frequency (RF) solutions, today announced that the Company's AWT6751 and AWT6755 dual-band ProEficient-Plus™ WCDMA power amplifiers (PAs) enable wireless connectivity in the new Galaxy Mega by Samsung Electronics. This phablet features either an expansive 6.3 or 5.8-inch display blending the functionality and form factor of both a smartphone and tablet. The Galaxy Mega offers up to a 1.7 GHz dual-core processor, 8 megapixel camera, and Android® 4.2.2 Jelly Bean operating system.
A photo accompanying this release is available at http://www.globenewswire.com/newsroom/prs/?pkgid=20316
"The selection of ANADIGICS' AWT6751 and AWT6755 power amplifiers for the Galaxy Mega demonstrates the tremendous strength of our relationship with Samsung, and the compelling advantages enabled by ProEficient-Plus technology," said Jerry Miller, senior vice president of Cellular Products at ANADIGICS. "Our dual-band ProEficient-Plus solutions not only help to extend battery life in power-hungry, large-screen mobile devices, but also deliver space-saving integration to provide greater design flexibility. We are extremely pleased to work closely with Samsung and look forward to powering the next-generation of feature-rich smartphones, phablets and tablets."
ANADIGICS' dual-band ProEficient-Plus solutions utilize the Company's exclusive InGaP-Plus™ technology and patented design architectures to deliver exceptional performance and integration. These power amplifiers deliver industry-leading efficiency in low-power mode for greater talk time and high-power mode for longer data application use. This level of performance, combined with exceptionally low quiescent currents without the use of a DC/DC converter, maximizes battery life in 3G mobile devices. ProEficient-Plus power amplifiers are also compatible with average power tracking (APT) to further increase efficiency and reduce current consumption at medium and low operating powers. The complete family of dual-band ProEficient-Plus solutions are offered in compact 3 mm x 4 mm x 0.9 mm packages and feature internal voltage regulation to save valuable PCB space.
ANADIGICS Dual-Band ProEficient-Plus Family Key Facts and Highlights:
Industry-leading efficiency across all power levels and exceptionally low quiescent current to maximize battery life, including longer talk time and data use
Two independent amplification chains to provide industry-leading performance for each band
Compact 3 mm x 4 mm x 0.9 mm package with internal voltage regulation and integrated DC blocks on the RF ports to reduce PCB space requirements
Best-in-class linearity to maintain stable, high-throughput 3G connections
RF matching optimized for output power, efficiency, and linearity in a 50-Ohm system
ANADIGICS Dual-Band ProEficient-Plus Family Key Specifications:

Product

Frequency Bands

Efficiency

Quiescent Current

AWT6751
Bands 1 & 8
(880 to 915 MHz & 1920 to 1980 MHz)
45% @ +28.3 dBm
40% @ +17 dBm
6 mA
AWT6754
Bands 4 & 5
(824 to 849 MHz & 1710 to 1785 MHz)
45% @ +28.6 dBm
40% @ +17 dBm
6 mA
AWT6755
Bands 2 & 5
(824 to 849 MHz & 1850 to 1915 MHz)
45% @ +28.8 dBm
40% @ +17 dBm
6 mA
AWT6756
Bands 1 & 5
(824 to 849 MHz & 1920 to 1980 MHz)
45% @ +28.3 dBm
40% @ +17 dBm
6 mA
For more information on ANADIGICS products and multimedia content, please refer to the following resources:
About ANADIGICS, Inc.
ANADIGICS, Inc. (Nasdaq:ANAD) (the "Company") designs and manufactures innovative radio frequency solutions for the growing cellular, WiFi, and infrastructure markets. Headquartered in Warren, NJ, ANADIGICS offers RF products with exceptional performance and integration to deliver a unique competitive advantage to OEMs and ODMs for mobile device, base station, CATV infrastructure, CATV subscriber, and industrial applications. The Company's award-winning solutions include power amplifiers, front-end ICs, front-end modules, line amplifiers, active splitters, tuners, and other RF components. For more information, visit www.anadigics.com.
CONTACT: Media Relations
         Brian Ribeiro
         mspire group
         Tel: +1 908 369 9300
         Email: bribeiro@mspiregroup.com
         
         Investor Relations
         Kristina Panek
         ANADIGICS, Inc.
         Tel: +1 908 668 5000 ext. 5330
         E-mail: kpanek@anadigics.com