August 16, 2013 at 11:20 AM EDT
4 Reasons To Respect The Bearish Case
DJI:DJI, CBOE:SPX, NQ:COMP, NY:XAX, INDEXDJX:.DJI, INDEXSP:.INX, NYSEARCA:DIA, NYSEARCA:SPY, NYSEARCA:SSO, NYSEARCA:TZA, NYSEARCA:FAZ, NYSEARCA:SDS Related posts: Respect Gold's Range from $1,350 – $1,422 We Are Seeing A Bearish Divergence In Small Cap Stocks Is The Plunging U.S. Dollar Bullish or Bearish News For Gold Prices? Bullish Case For Gold (and Silver) Is Now Complete The Outlook For Gold Mining Stocks Remains Bearish
Chris Ciovacco: Stock market bears have accumulated four feathers in their caps, which tells us to remain flexible and open to additional weakness in stocks:
Four Feathers In The Bears' Cap
Economic Data Supports Tapering
Slowing Momentum
Market Breadth
Stock Trends
Data Supports Tapering
One of the primary goals of the Fed's money printing extravaganza is to move closer to their mandated "full employment" target. A big factor in Thursday's market selloff was economic news that showed some progress on the employment front. From Reuters:
The number of Americans filing new claims for jobless benefits fell to a near six-year low last week and consumer prices rose broadly in July, which could draw the Federal Reserve closer to trimming its massive bond-buying program.
Slowing Earnings and Technical Momentum
When fundamental and technical forces align, it usually makes sense to respect the synergy. If earnings ultimately drive the stock market, then the stock market bears have reason to hope. From the Columbus Dispatch:
Wal-Mart Stores, the nation's largest retailer, missed analyst expectations in the second quarter and lowered its full-year profit and sales guidance yesterday, saying consumers were still weighed down. Wal-Mart attributed the sluggish results in the United States to the payroll-tax increases, a lack of expected inflation in food and "a general reluctance of customers to spend on discretionary items right now," said Charles M. Holley Jr., Wal-Mart's chief financial officer.
We noted on August 11 the Dow's bullish momentum was slowing in a concerning manner. Wal-Mart's outlook did nothing to improve the situation; the chart below is as of Thursday's close.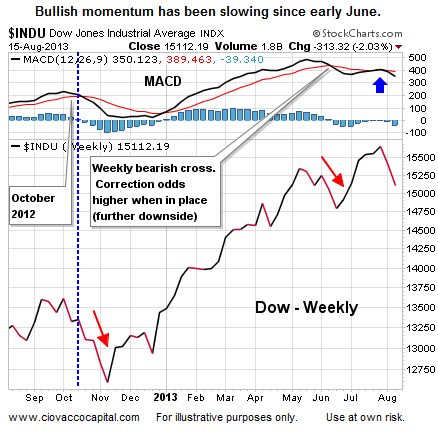 Bad Breadth
The previously noted slowing earnings momentum has been showing up on the market breadth radar.
(...)Click here to continue reading the original ETFDailyNews.com article: 4 Reasons To Respect The Bearish Case
You are viewing an abbreviated republication of ETF Daily News content. You can find full ETF Daily News articles on (www.etfdailynews.com)
Related posts: