August 23, 2013 at 13:45 PM EDT
Is The Stock Market Ready For Further Growth? What Impact Could It Have On Silver?
NYSEARCA:SLV, NYSEARCA:AGQ Related posts: Will Dismal Economic Growth Finally Bring Down The Stock Market? Is Silver Ready For A Big Comeback? Gold and Silver Ready To Make Next Decisive Short Term Move Get Ready To Take Advantage Of Cheap Silver Prices Breaking Down The Technicals In The Silver Market: iShares Silver Trust, ProShares Ultra Silver
Przemyslaw Radomski, CFA: According to Bloomberg, the Fed stimulus helped in pushing the S&P 500 up as much as 153% from its March 2009 low, as better-than-estimated corporate earnings also fueled equity gains. Of the 483 companies in the S&P 500 that have reported quarterly earnings this period, 71 percent surpassed profit estimates.
On Wednesday, the S&P 500 fell 0.6% to the lowest level since July 8 as minutes from the Federal Reserve's July meeting showed officials support stimulus cuts this year if the economy improves. In this way, the Standard & Poor's 500 Index extended its decline to 3.9% since closing at its latest record on August 2.
Despite this decline, yesterday, U.S. stocks rose on data showing improvement in global manufacturing and the American labor market. The S&P 500 index gained 0.9% and climbed to 1,656.96.
Will they keep rallying? Let's take a closer look at the charts to find out what the current situation in the general stock market is (charts courtesy of http://stockcharts.com).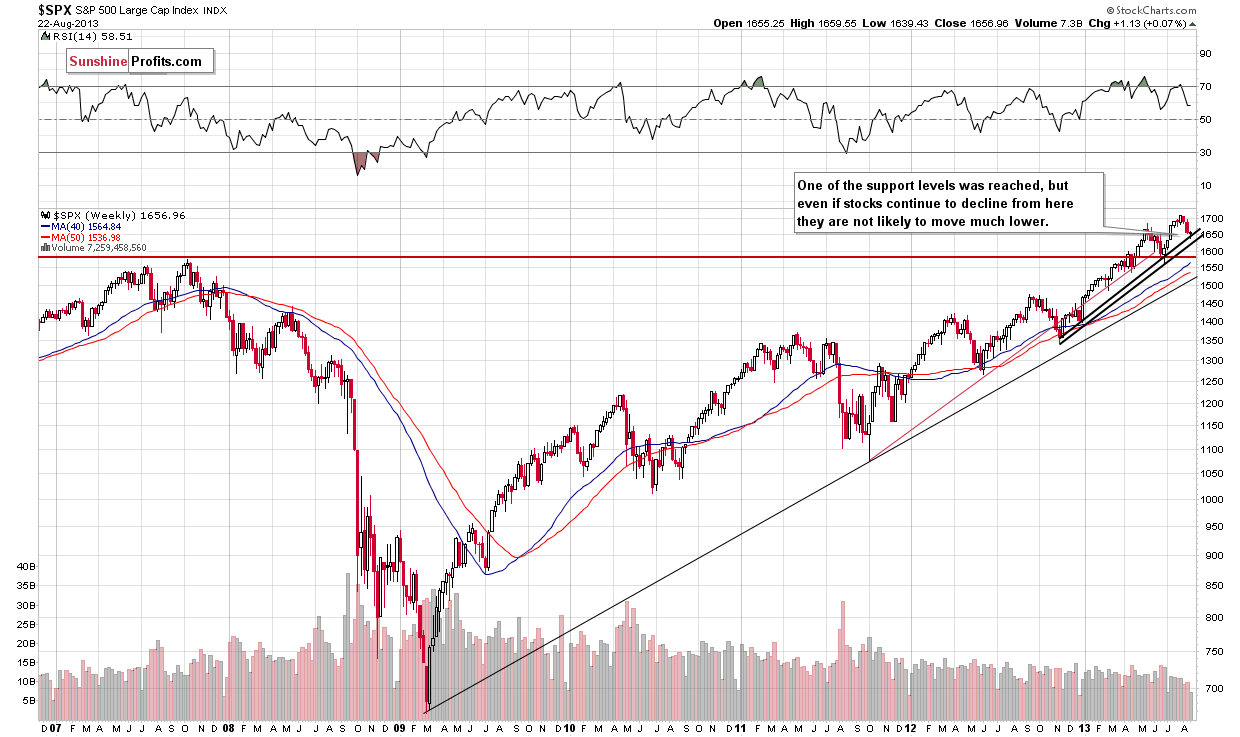 On this week's long-term S&P 500 chart we see that the situation hasn't changed much.
The correction is still shallow from the long-term perspective, and the S&P 500 Index reached the rising support line based on the November 2012 and January 2013 lows (in terms of weekly closing prices).
Please note that there is another rising support line based on the November 2012 -January 2013 lows (on an intraday basis), which may stop a correction even if the current support doesn't hold. Therefore, the downside seems limited.
Before we examine the Broker-Dealer Index chart to see what the financial sector is doing, let's take a look at the DIA ETF chart, which is another proxy for the general stock market.
Earlier this week, the DIA ETF moved lower, and the RSI based on it moved below 30 – almost to the 26 level. Since the beginning of 2008, there have been exactly 7 cases when we saw something similar. In 4 of them, this meant that an important bottom had just been formed. In the remaining 3 cases, a major bottom was formed in a short time anyway.
(...)Click here to continue reading the original ETFDailyNews.com article: Is The Stock Market Ready For Further Growth? What Impact Could It Have On Silver?
You are viewing an abbreviated republication of ETF Daily News content. You can find full ETF Daily News articles on (www.etfdailynews.com)
Related posts: