September 04, 2013 at 12:10 PM EDT
Can The Recent Uptrend In Gold Continue?
NYSEARCA:GLD, NYSEARCA:IAU Related posts: Recent Rally In Gold: Significant Improvement or Just a Bigger Pullback? What To Make Out Of The Recent Drop In Gold and Silver Prices? A Favorable Uptrend In The S&P 500 Index? Four Reasons Why Hedge Funds Will Continue To Dislike Gold Strong Uptrend In The S&P 500 Could Lead To The 1650 Level
Chris Ciovacco: Gold has been outperforming both stocks and long-dated Treasuries in recent weeks. Below are four possible scenarios for the yellow metal looking out several weeks:
A short-lived rally induced by Syria
An inflation-fueled and sustainable push higher
A rally shot down by increasing fears of deflation
A sharp no place else to hide rally
War – What Is It Good For?
One scenario that could disappoint the gold bug community is a flash in the pan rally just prior to U.S. military action in Syria. Under this scenario, gold could spike just before the U.S. begins to attack. The spike could be quickly followed by an intraday reversal as traders lock-in gains. From CNBC/Reuters:
Gold climbed 1.4 percent on Tuesday after President Barack Obama won the backing of two top Republicans in Congress in his call for limited U.S. strikes on Syria to punish President Bashar al-Assad for suspected use of chemical weapons against civilians.
Inflation – A Bug's Best Friend
Gold bugs could pick up a significant tailwind if the billions of dollars injected into the economy via the Fed's quantitative easing programs eventually lead to inflation. The chart below shows the performance of gold (GLD) relative to Treasuries (TLT). When the ratio is rising, inflation fears are greater than fears of deflation. Since late June, investors have preferred GLD over TLT.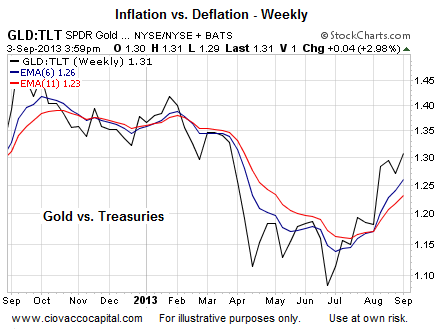 Deflation: Drag On Stocks and Gold
The best case rally scenario for gold probably involves a combination of sustainable economic expansion coupled with rising inflation. Under those conditions, at least in the short-run, stocks would most likely benefit as well. Rising inflation expectations, especially when inflation is low, tend to support stocks and commodities.
(...)Click here to continue reading the original ETFDailyNews.com article: Can The Recent Uptrend In Gold Continue?
You are viewing an abbreviated republication of ETF Daily News content. You can find full ETF Daily News articles on (www.etfdailynews.com)
Related posts: