October 03, 2013 at 11:51 AM EDT
Volatile Times Ahead For Silver
NYSEARCA:SLV, NYSEARCA:AGQ, NYSEARCA:IAU, NYSEARCA:GLD, NYSEARCA:UGL Related posts: Critical Weeks Ahead For Silver Market Needs Rest After Volatile Week We Got A Volatile (Bond) Situation: 3 Investing Ideas One Simple Measure For Investing In A Volatile Market Are ETF Fund Flows Indicating Better Times For The U.S. Stock Market?
Przemyslaw Radomski, CFA: On Wednesday, silver gained almost 2.7% and reached $22 as a weak dollar boosted commodities priced in the greenback. The US currency was under selling pressure as a U.S. government shutdown entered a second day with no end in sight. The white metal was supported by weak U.S. economic data, which raised hopes the Federal Reserve would stick to its commodity-friendly stimulus for longer.
Despite this temporary increase, silver has since given up the gains and is trading below $22 once again. We didn't expect silver to show significant strength – as we emphasized in our previous essay on the gold price on October 2013, the medium-term trend for the precious metals market remains down.
Will silver decline further? Or maybe the white metal will rebound in the near future? Before we try to answer these questions, let's take a look at the charts and find out what the current outlook for silver is. Today, we will start with the analysis of silver from the long-term perspective, then move to a short-term chart, and then once again back to the big picture (charts courtesy by http://stockcharts.com).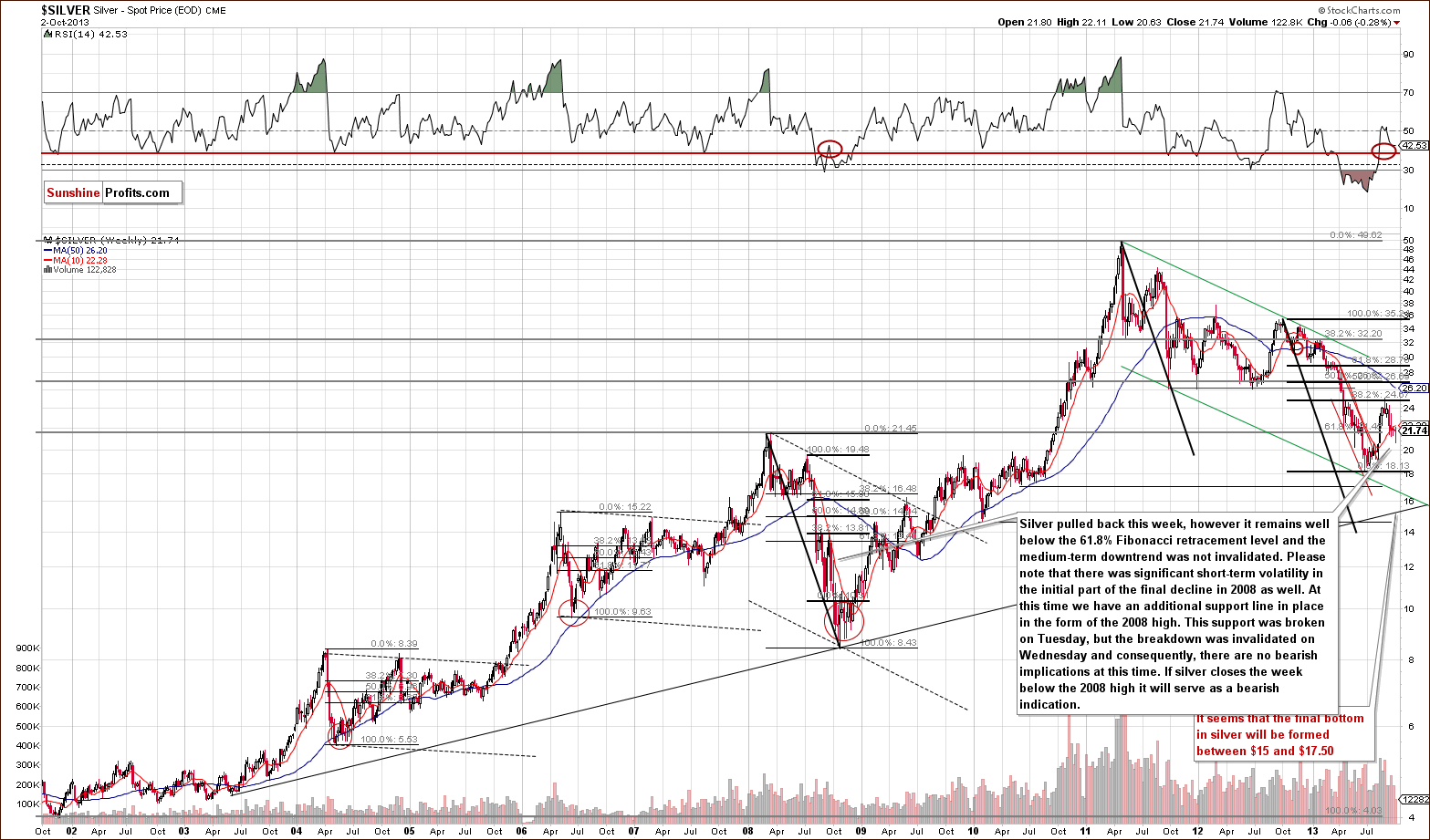 Although a lot happened this week, really not much changed, as silver remains above the 2008 high. It will be important to check where silver closes this week. At this time, it is unclear whether we saw a true move below this important support level (and Wednesday's rally was a correction) or it was just a temporary price slide. If so, we probably shouldn't view Tuesday's decline below this level as significant.
(...)Click here to continue reading the original ETFDailyNews.com article: Volatile Times Ahead For Silver
You are viewing an abbreviated republication of ETF Daily News content. You can find full ETF Daily News articles on (www.etfdailynews.com)
Related posts: