October 09, 2013 at 13:55 PM EDT
The Outlook For Oil Stocks Remains Bullish
NYSE:XOM, NYSE:TOT, NYSE:PBR, NYSEARCA:XLE Related posts: The Outlook For Oil Stocks Remains Bullish The Outlook Remains Bearish For Gold & Mining Stocks Why My Outlook For Natural Gas Prices Remains Bullish The Outlook For Gold Mining Stocks Remains Bearish The Short-Term Outlook For Gold Remains Bearish
Nadia Simmons: Looking at the chart of crude oil from today's point of view, we can say that the first week of a new month and a new quarter was quite good for oil bulls. Although we saw a drop below the August low and the 38.2% Fibonacci retracement level, the buyers didn't give up and stopped further declines, which resulted in an increase to a weekly high of $104.38. In the previous week, light crude gained 0.87% and closed higher for a first time in four weeks. Earlier this week, oil bulls managed to stop sellers and defend the 38.2% Fibonacci retracement level once again, which resulted in a pullback to over $104.
And what did happen with the oil stocks at the same time? They closed lower for a first time in five weeks. Does it mean that they become weaker in relation to crude oil? How does the relationship between light crude and the oil stocks look like? Before we try to answer these questions, let's take a look at the NYSE Arca Oil Index (XOI) charts to find out what the current situation in the oil stock market is. Let's start with a look at the monthly chart of light crude (charts courtesy by http://stockcharts.com).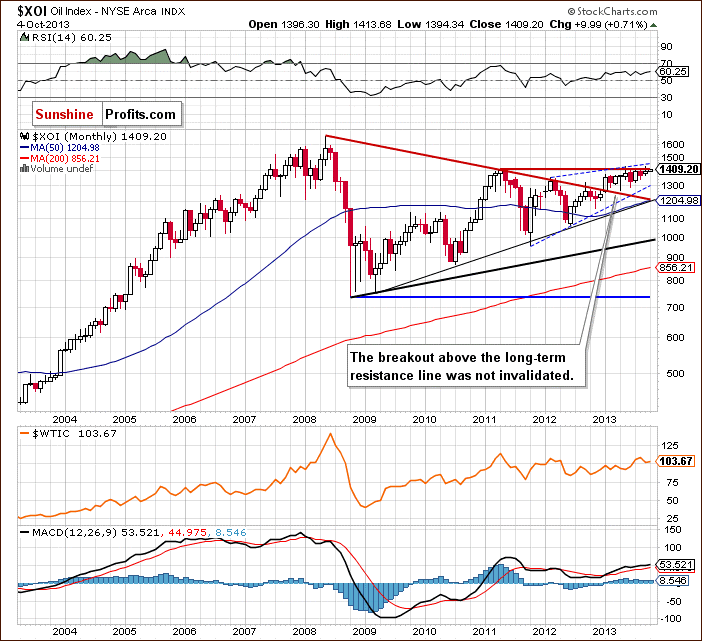 In our previous essay on oil stocks we wrote:
The XOI not only broke above the July top, but it also broke above the May 2011 high. If the buyers hold the oil index above 1,400 today, this will be the highest monthly close since June 2008.
Although oil bulls didn't manage to hold the XOI above 1,400, we saw the highest monthly close since April 2011. Additionally, the XOI is still above the previously-broken long-term declining resistance line based on the 2008 and 2011 highs and the breakout hasn't been invalidated. The oil index also remains in the range of the rising trend channel.
(...)Click here to continue reading the original ETFDailyNews.com article: The Outlook For Oil Stocks Remains Bullish
You are viewing an abbreviated republication of ETF Daily News content. You can find full ETF Daily News articles on (www.etfdailynews.com)
Related posts: