October 22, 2013 at 16:21 PM EDT
Bullish Inflation Expectations Increase After Weak Labor Report
INDEXDJX:.DJI, INDEXSP:.INX, NYSEARCA:SPY, NYSEARCA:DIA, NYSEARCA:VTI, NYSEARCA:EEM, NYSEARCA:XLF Related posts: Should The Federal Reserve Taper Now In Spite of Weak Jobs Report? Get Ready For "Taper Lite": 3 Signs The Labor Market Isn't Picking Up What To Expect From The Dow Jones Industrial Average After Labor Day Q2 Earnings: Low Expectations, High Hopes Bullish on Apple Inc.(AAPL)? Here's What to Look for in Earnings Report
Chris Ciovacco: Tuesday's monthly labor report provided us with an excellent opportunity to monitor investors' expectations about the important battle between economic forces that create inflation and those that create deflation. From Reuters:
U.S. employers added far fewer workers than expected in September, suggesting a loss of momentum in the economy that will likely add to the Federal Reserve's caution in deciding when to trim its monthly bond purchases.
Inflation vs. Deflation
All things being equal when investors are more concerned about deflation relative to inflation, it is a bearish sign for the economy, earnings, and stocks. Conversely, when inflation expectations are backed by more conviction than those backing deflation, it is a bullish sign for the economy, earnings, and stocks. In a deflationary environment, fixed income becomes attractive since it is easy to "stay ahead of inflation" from a purchasing power perspective. Therefore, if bonds benefit in a deflationary environment and stocks benefit during periods of inflation, we can monitor deflation vs. inflation expectations by tracking the demand for bonds (TLT) relative to stocks (SPY). The ratio continues to show a clear bias toward inflation and stocks.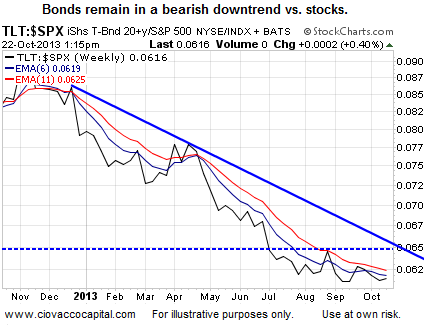 Earnings Give Fed Reason To Pause
The Fed has been hoping the economy would strengthen enough to take the bullish baton hand off from QE. Thus far, the larger economic picture can still be classified as "tepid". The outlook for earnings is another contributing factor to rising inflation/money printing expectations. From The Wall Street Journal:
A strong first half had initially signaled a good year for Wall Street, but recent political and market events will likely drive profitability and compensation lower, according to a report released by New York state Comptroller Thomas DiNapoli. Profits could total about $5 billion in the second half after generating an estimated $10 billion in the first half, the report said. "Washington's inability to resolve budget and fiscal issues is bad for business," Mr. DiNapoli said in a statement. "Failure to resolve the federal budget and debt ceiling impasse could disrupt the economy and hurt New York City and New York state."
May 22 Taper Peak In Stocks vs. Employment Tuesday
When stocks gave back a good portion of their gains soon after the open Tuesday, the buzz on Twitter was that we were seeing a repeat of the May 22 high in the S&P 500.
(...)Click here to continue reading the original ETFDailyNews.com article: Bullish Inflation Expectations Increase After Weak Labor Report
You are viewing an abbreviated republication of ETF Daily News content. You can find full ETF Daily News articles on (www.etfdailynews.com)
Related posts: